JV Softball at L&M will begin at 6 pm today, 6-28-22, with V Softball to follow. JV Baseball will remain with a 5:30 start, followed by V Baseball. NOTE: All parking will be at the elementary school parking lot at L&M.

JH Boys baseball at WMU has been cancelled. Thanks for your understanding

Keokuk County Child Care Study Dear Parents and Staff, The limited availability of child care options throughout Keokuk County has been affecting the children, their families, and the employers for years. Without exception, child care providers and parents of young children tell us there are not enough available openings in locations throughout our county. Iowa Jefferson Keokuk Early Childhood Iowa, in partnership with the Sigourney Area Development Corporation and the City of Richland, has contracted with First Children's Finance (FCF) to complete a child care study. The study will include research and analysis on: the needs of local families and children, the current supply of regulated child care, parents' current and preferred child care, effects on employers caused by lack of child care, and child care providers' challenges operating during COVID. The report will include the key findings of the research and analysis; the county's child care gap; and a recommendation on the number and type of child care spots that would be reasonable to meet the needs. The research being conducted by FCF includes a survey of parents that live or work in Keokuk County to learn about their child care preferences, along with child care challenges they may be facing. The survey for child care providers and preschools can be accessed online through July 15, 2022 at:
https://www.surveymonkey.com/r/KeokukChildCare
If you have questions or would like more information about this project, contact Tammy Wetjen-Kesterson with Iowa Jefferson Keokuk Early Childhood Iowa at
iowajeffersonkeokukeci@gmail.com
or Gary Losbaker with the Sigourney Area Development Corporation at
sadc@sigourney.com
. Thank you, Mr. Hatfield

The junior high baseball and softball games scheduled for tonight 6/6/22 at home with Lone Tree has been postponed. We will try to reschedule this game for a future date.

-UPDATE for baseball/softball games at Pekin tonight- JV/V Baseball vs EBF scheduled for tonight, 5/31/22, has been cancelled. JH & V SB vs Columbus is still on as scheduled; JH at 5:30 pm with Varsity to follow.

Tonight's - 5-26-2022- JV/Varsity Softball and Baseball games at Pekin vs. Wapello have been postponed.

JH Softball and Baseball at Wapello scheduled for tonight, 5-26-22, has been cancelled.

Dear Pekin Staff, Students, Parents and Community Members, Our hearts, thoughts and prayers go out to the students, teachers, and families of Uvalde, Texas. These incidents remind us how important our efforts are to invest in forming trusting relationships with and among students in our schools. The PCSD has important safety protocols in place. As superintendent, I hope to have School Resource Officer on campus for the 22-23 school year. Please know that the district has been working to improve all security-related matters. We all have a role in sustaining a safe learning environment. If you or your child see or hear something out of the ordinary or concerning, say something to someone involved. Report things to your teacher, principal, or local law enforcement officials. Of course, in an emergency, call 911. With a heavy heart - Mr. Hatfield

Notice: because of the weather forecast, tonight's home high school softball and baseball games will have the VARSITY teams playing AT 5:30, followed by the JV teams. (Posted 5-24-22)

Pekin PTO will hold a meeting on June 3rd @ 9:30 AM in the elementary cafeteria. We will be discussing projects for the 2022-2023 school year, electing new officers, and brainstorming new ideas for supporting all K-12 students and staff. Any and all are welcome to attend. So, if you have ever wanted to get more involved with PTO please plan to attend this meeting. All staff and community members are invited to attend. If you are unable to attend, but would love to volunteer your time and talents, please email Mrs. Ledger @
kim.ledger@pekincsd.org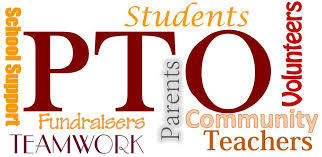 The annual Pekin Elementary Track Meet is Monday, May 23rd. K-2 grade students will run from 8:30-10:00, and 3rd-6th grade will run from 10:00-11:30. Please make sure kids are dressed properly for the weather, including sunscreen. They've been practicing hard, so come join the fun!

The fourth graders have been busy in Mrs. Scholtus's Language Arts classroom the second semester of the school year working on a variety of projects involving reading, researching, note-taking, writing an essay and creating a project to share within the classroom and with various teachers. The students used the GPAEA student resource websites to research a topic of their choice. There were over 215 choices which the fourth graders could choose from. The students studied a variety of people, places, natural disasters, history of the United States, buildings and structures, galaxies and black holes, and medical issues such as cancer. The students were also given choices on creating their interest center projects. They could choose a poster, diorama, or model for the hands-on projects. Or they could use their laptops to create a slideshow or flipgrid video to use technology. The students did 4 projects this semester and used both types of projects. These projects also allowed students to receive more specialized instruction for their reading and writing at their independent learning level. The fourth graders would share these projects with their classmates so that other students could learn about a different topic also. Here are a few examples of some of the work the students did.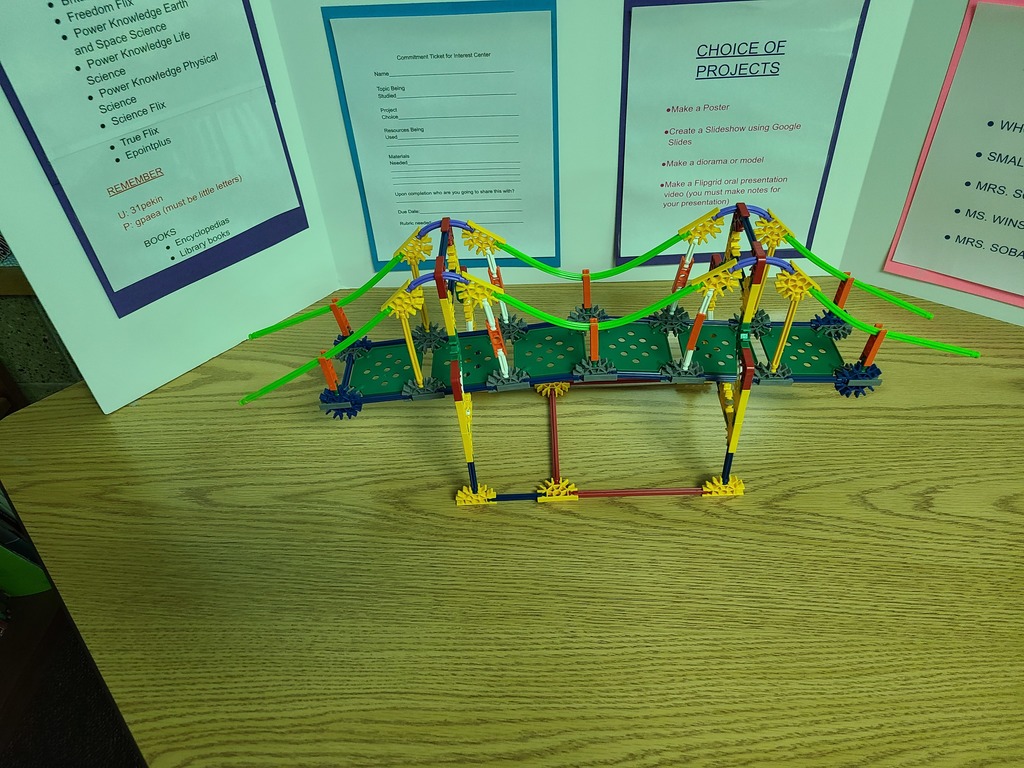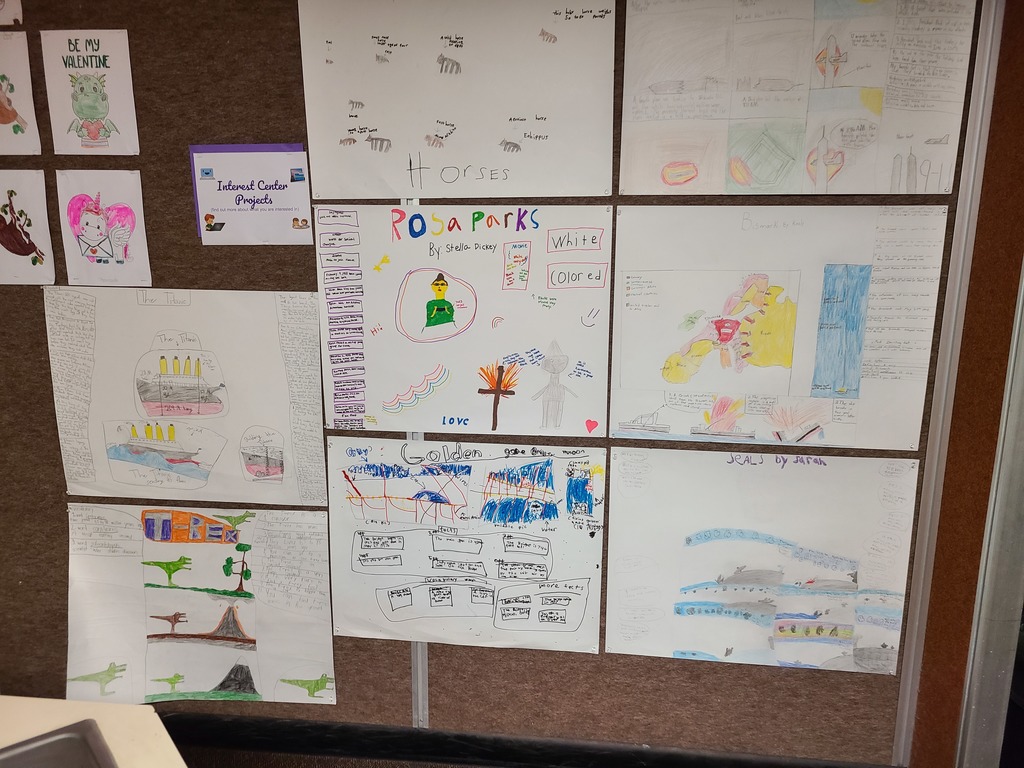 Good evening. I would like to send out some information about laptop turn ins. Seniors will turn in their laptops on May 18th. The rest of the students will turn in their laptops on May 24th. If students turn in their laptop with damages they will go until after the first full week of school next year without a laptop. Examples of damages would be broken keys, broken screen, graffiti on the computer, etc. I sent out an email to students on April 25th warning students about this. It has also been in the announcements everyday since then. If you have any questions please feel free to contact the school.

2022 Summer Youth Programs offered through Jefferson Co. Extension Office. There is something for everyone offered to students K-8th grade. Some programs will be held at Pekin. Check out the information below to register.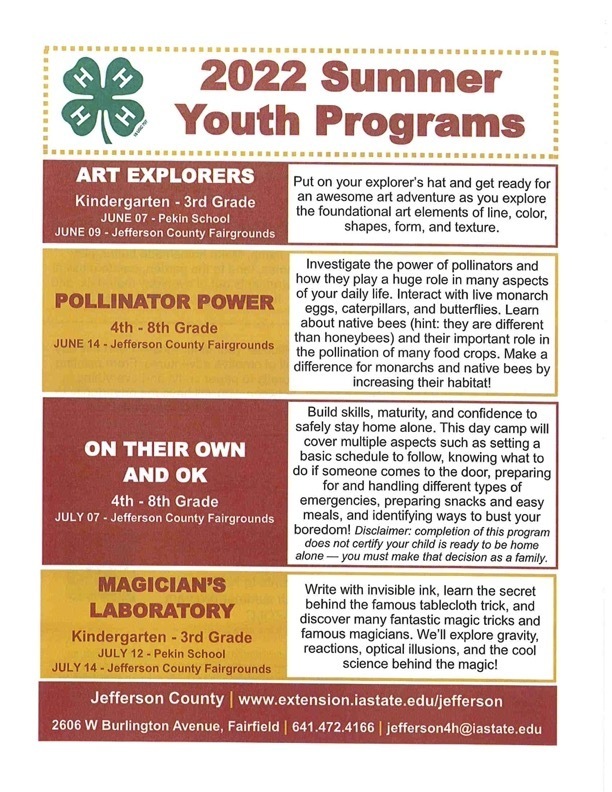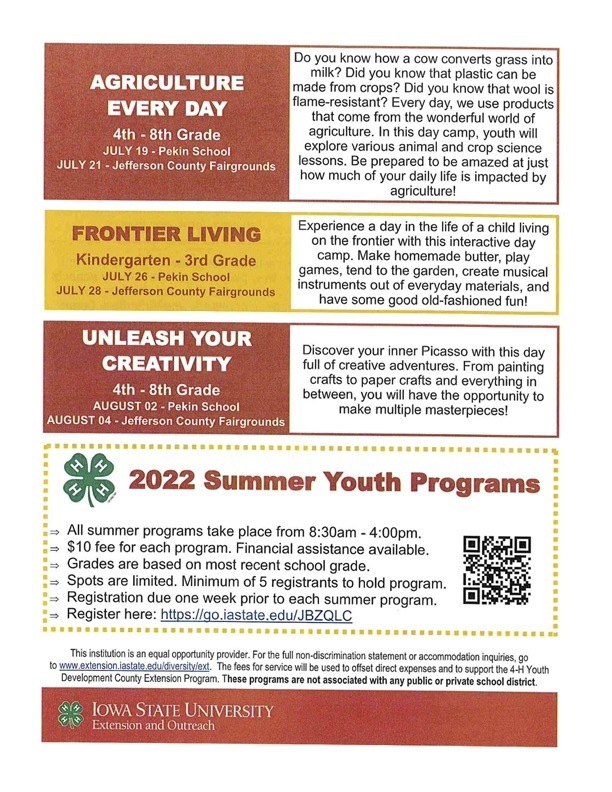 For the District Track Meet this Thursday at Sigourney. Field Events start at 4:00pm Running Events start at 4:30 pm You will need to purchase tickets online from the following link:
https://www.iahsaa.org/tickets/
Click on Class 1A and find the Sigourney Site to buy your tickets. Please pass this to everyone planning on attending.

K-6 Girls Basketball Camp information is attached below.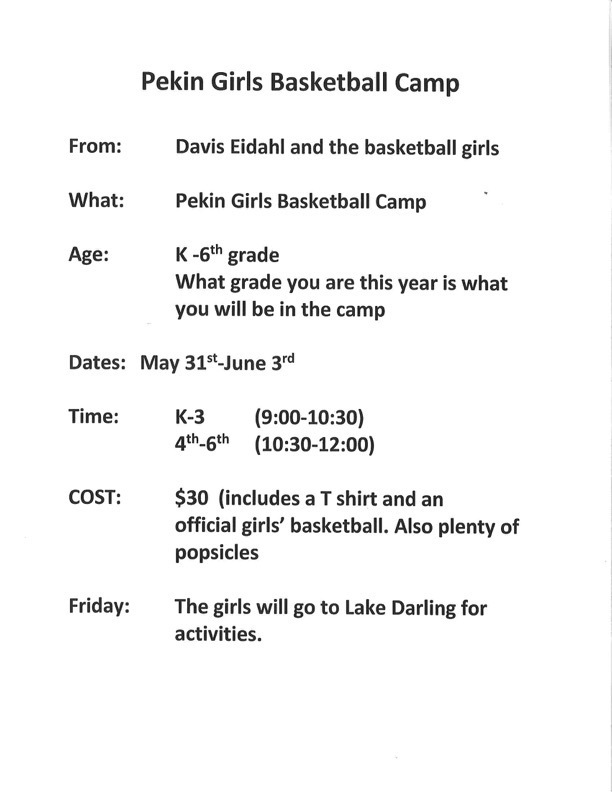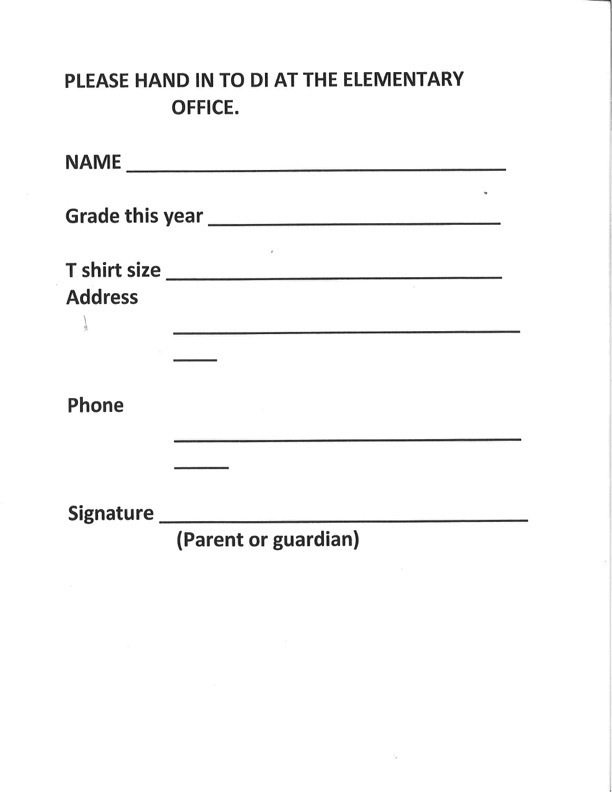 Boys Basketball Camp Registration form is attached below for all 4th-8th grade boys interested in participating.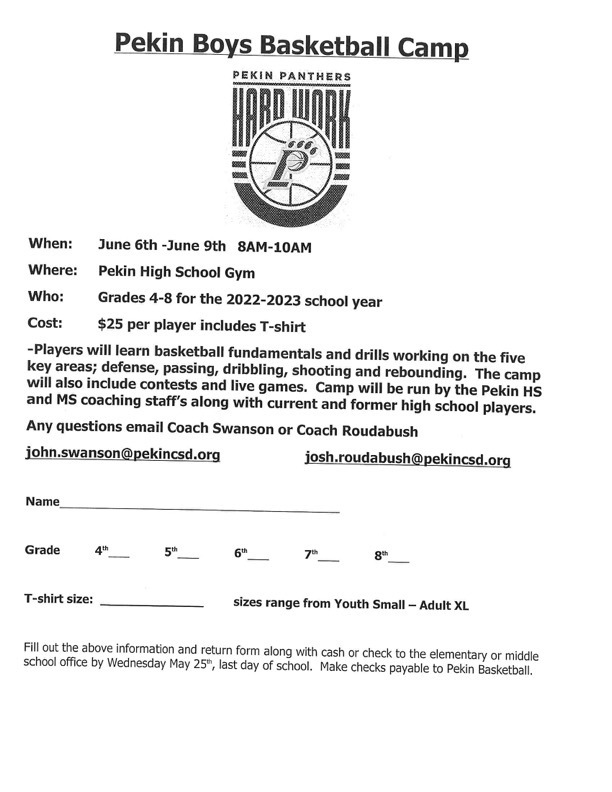 Pekin elementary will be celebrating our Book Blast arrivals with a pirate theme day on Friday, May 6. Dress like a pirate and be prepared for activities, snacks, and fun as we receive all the books each student earned during our Book Blast project. See if you can outdo Mrs. Millikin!

Preschool students visited Kdg. today in preparation for next fall. They enjoyed recess, classroom activities, and lunch. What fun!!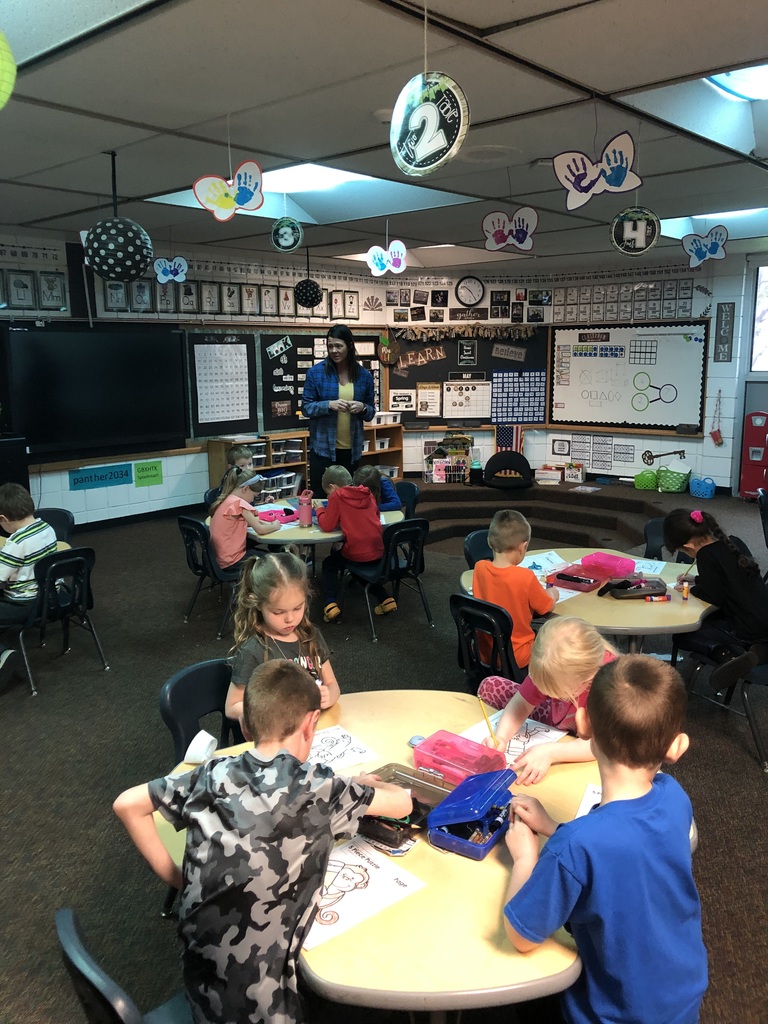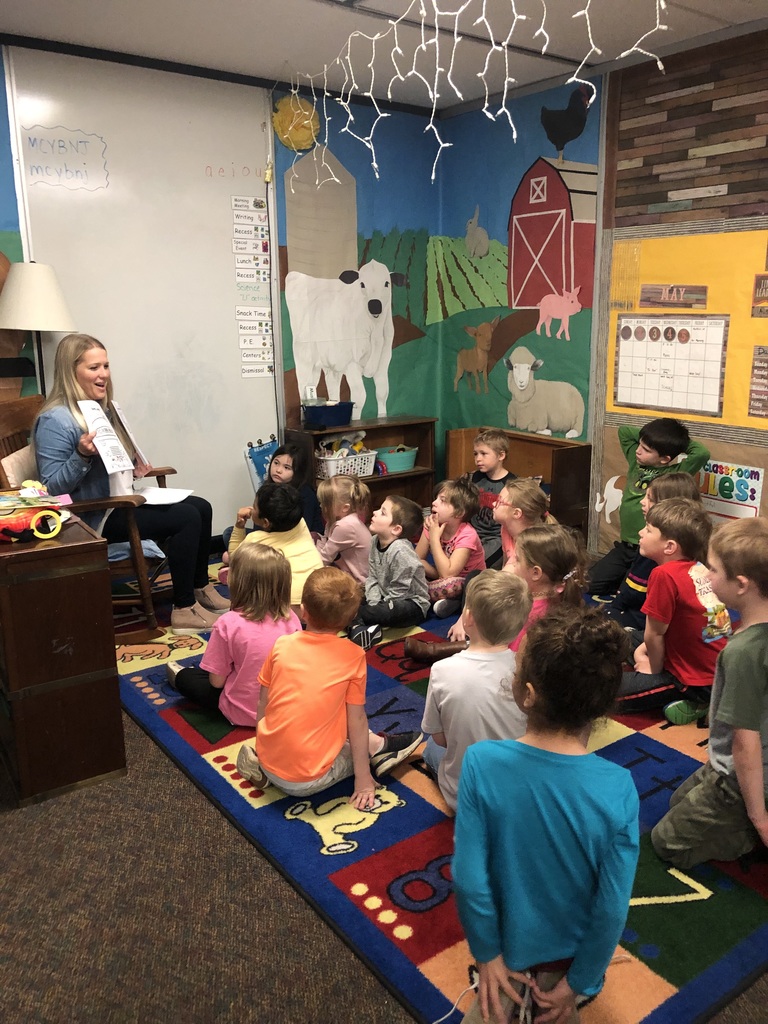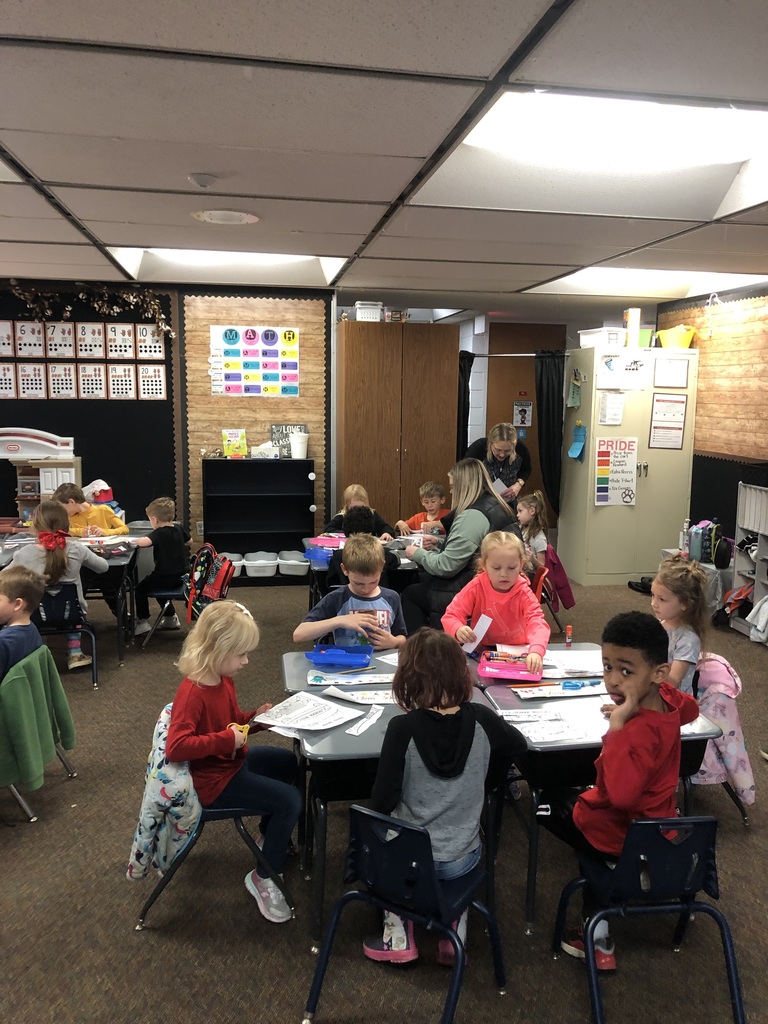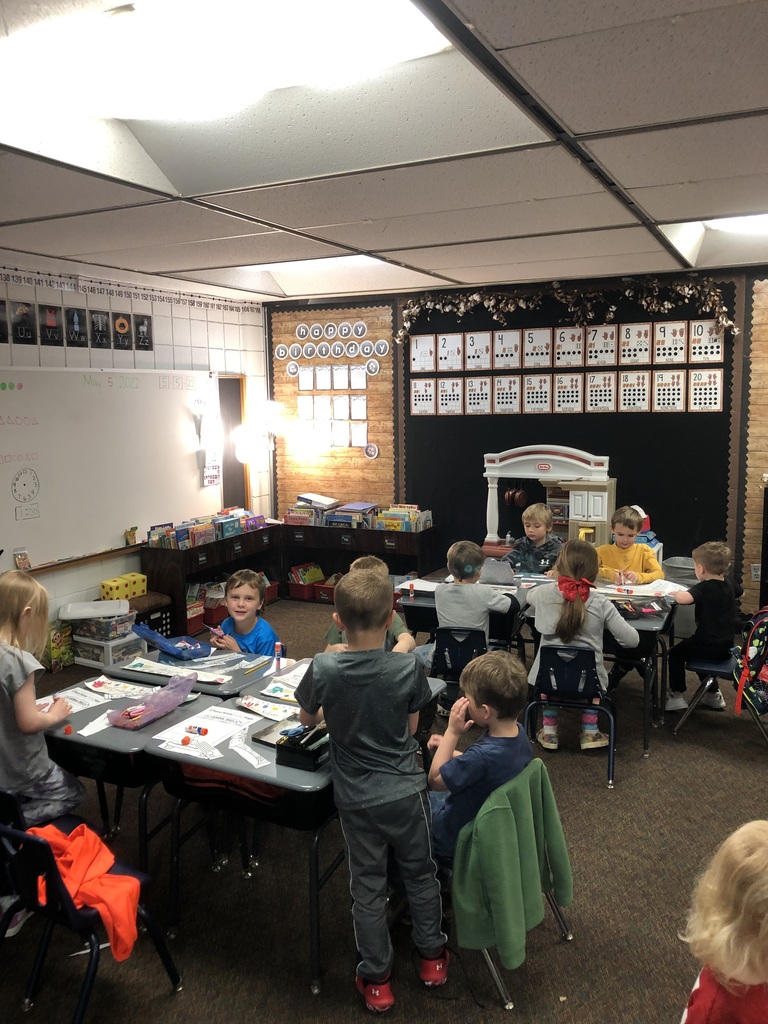 JH Track Meet scheduled at Cardinal today has been canceled and JH will not have practice after school today. Reminder: JH Track pictures will be tomorrow after school.