Due to limited numbers, Pekin JV Girls' Basketball tonight at Wapello will only be two quarters this evening instead of a full four. Boys JV basketball will play RIGHT AFTER the Girls' game is complete. Varsity games will play at their regularly scheduled times.

Secondary students got the opportunity to listen to John Deere as part of our Employer Guest Speaker series today! Thank you John Deere for sharing about great opportunities! #worththedrive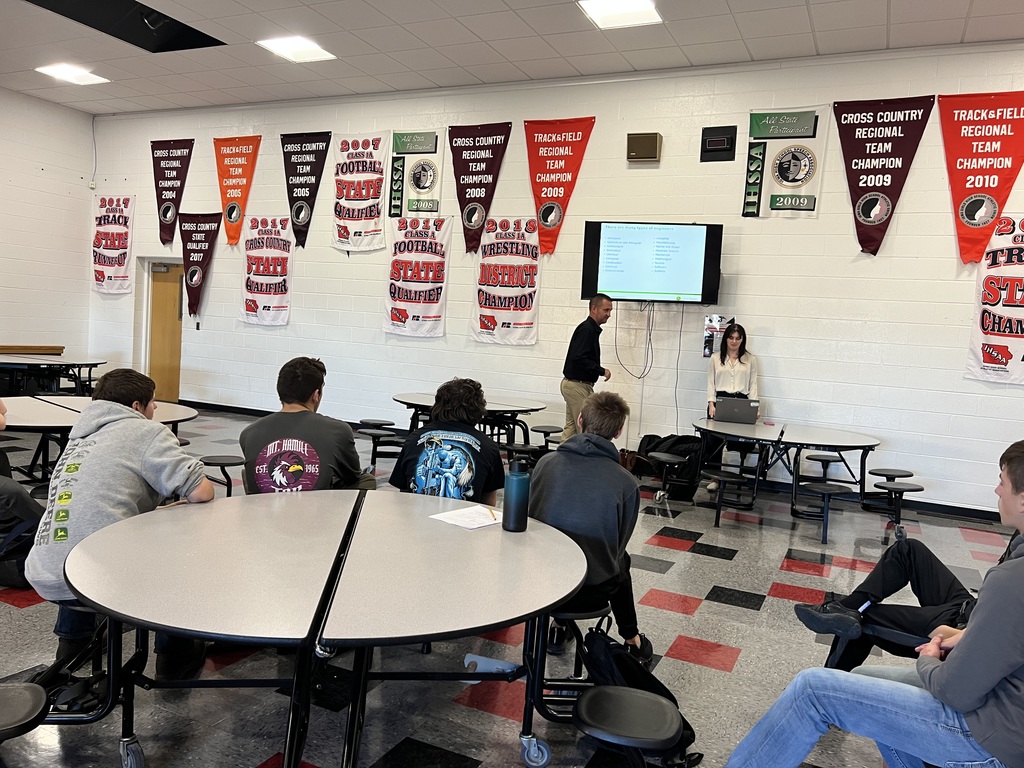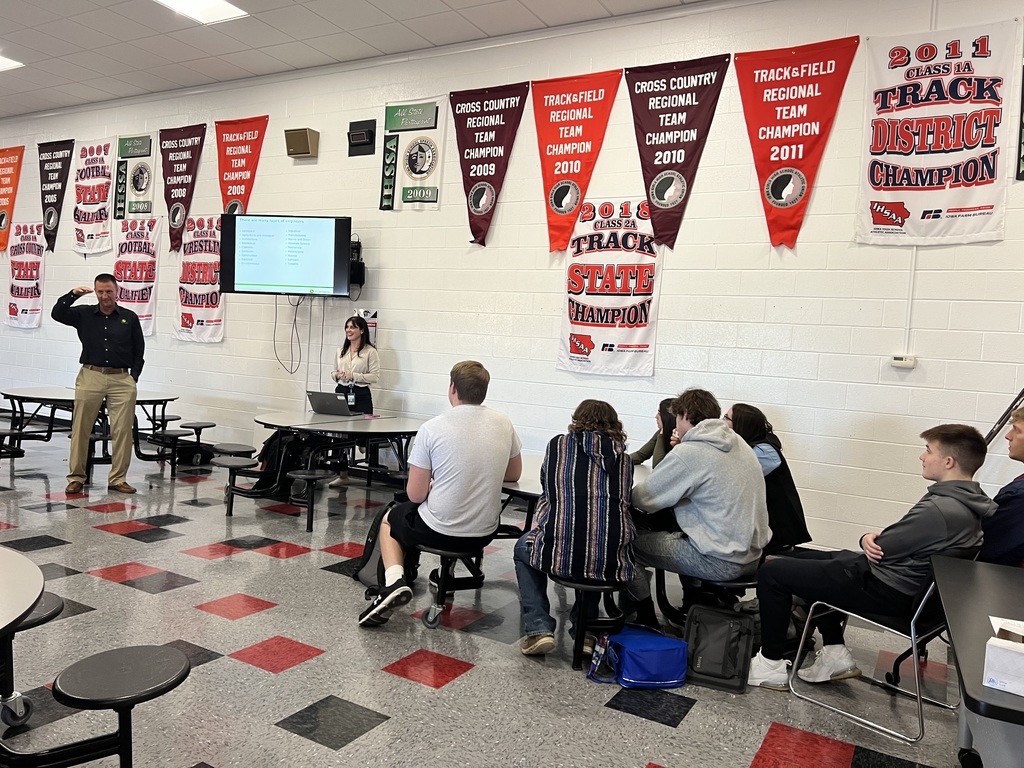 Pekin sent 12 men to the Southeastern Iowa Trades Expo at the Ottumwa National Guard Armory. They got to see and meet different trade groups from around the state. Thanks to SSG Kyle Green for helping organize and inviting us to attend! #pekin #worththedrive #iowanationalguard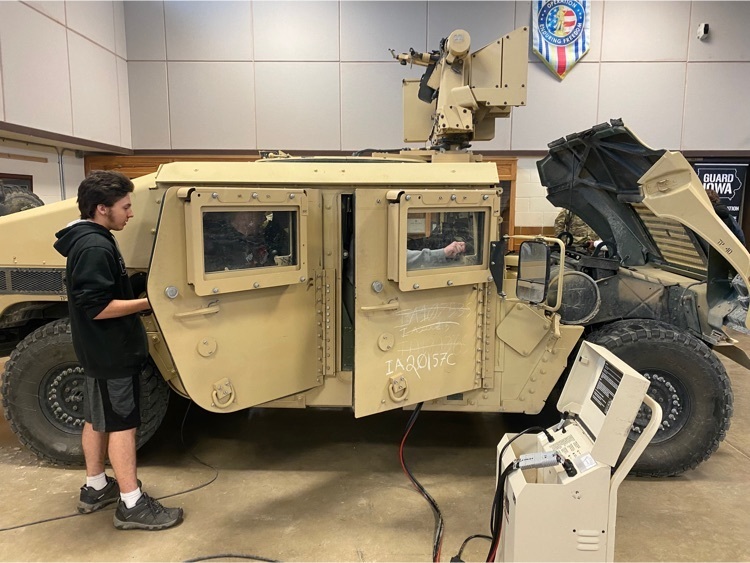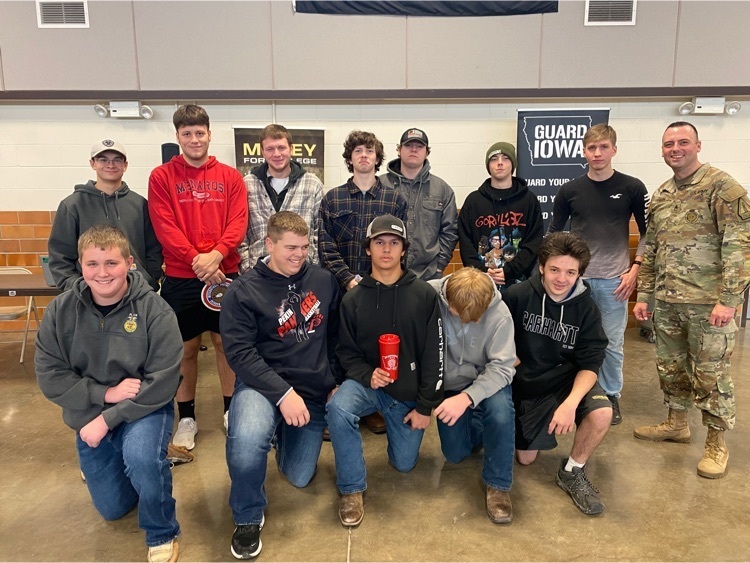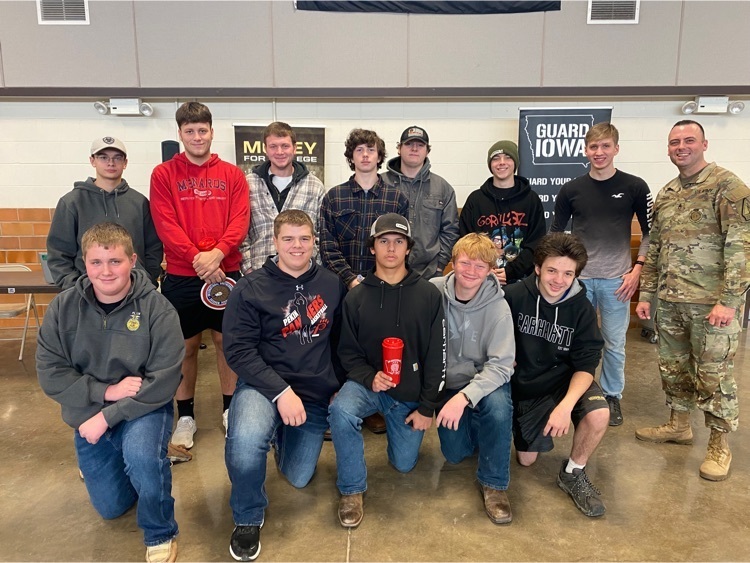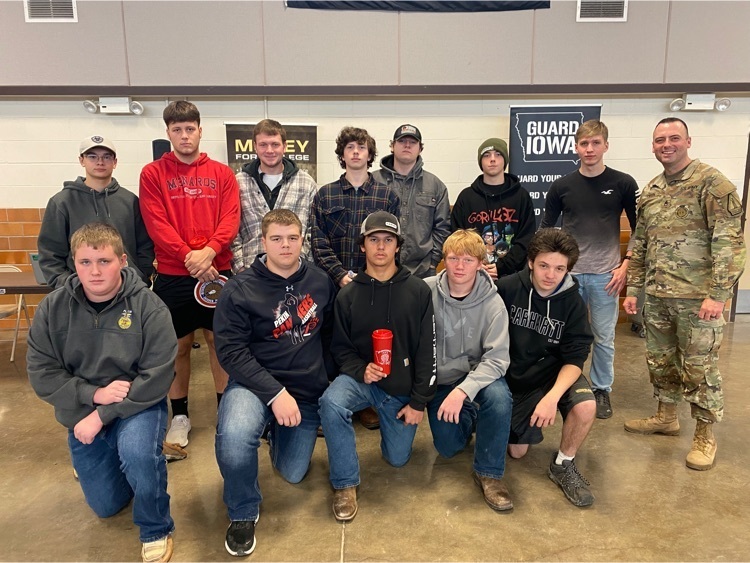 The Fairfield Elks delivered dictionaries to every third grader at Pekin.  They have been doing this service for about twenty years.  We appreciate their desire in making our community and school better!  Thank you to the Elks! #worththedrive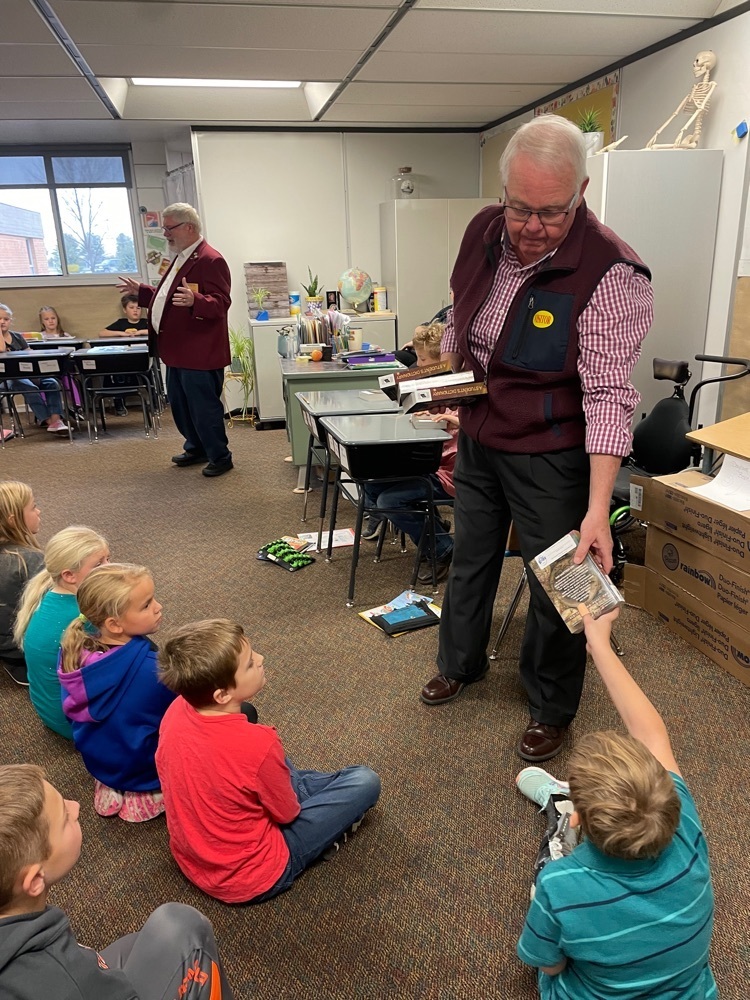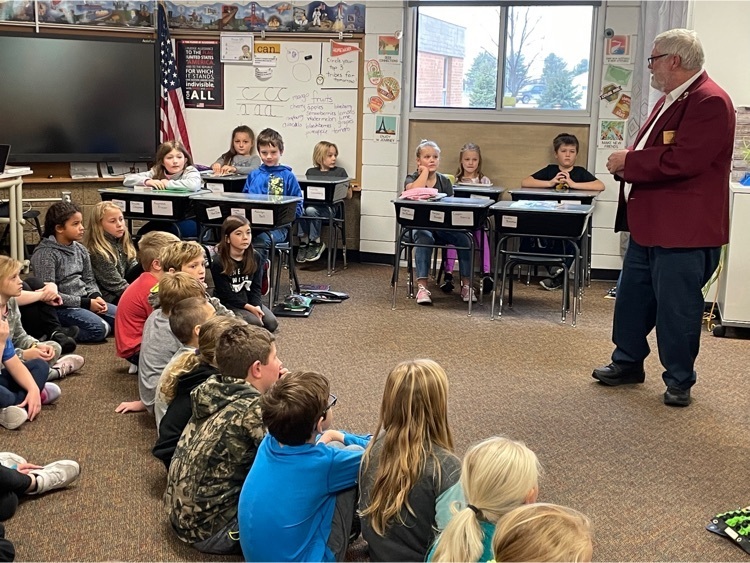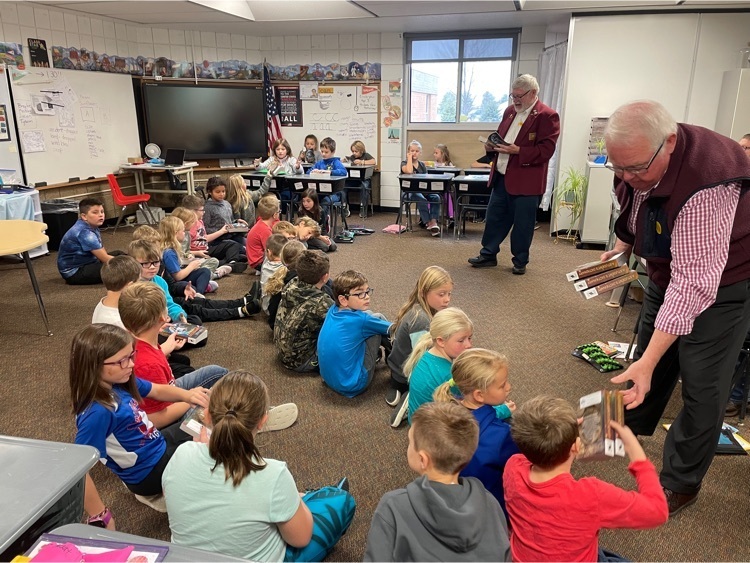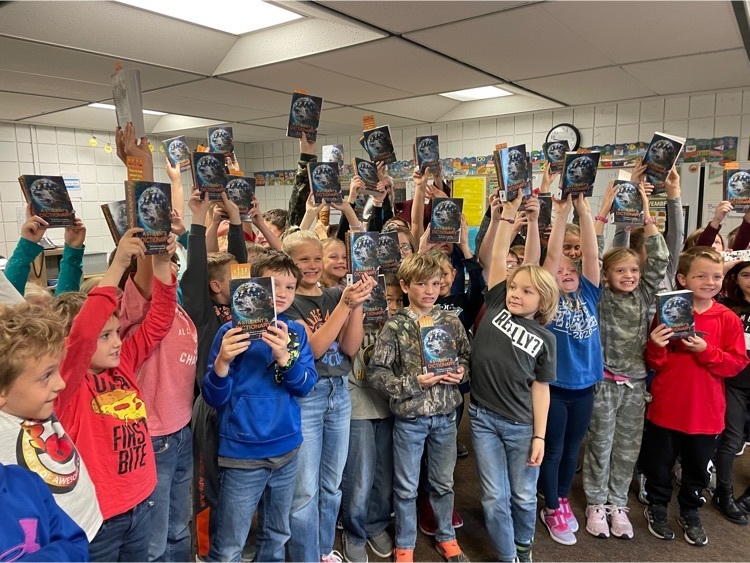 Santa's Workshop PTO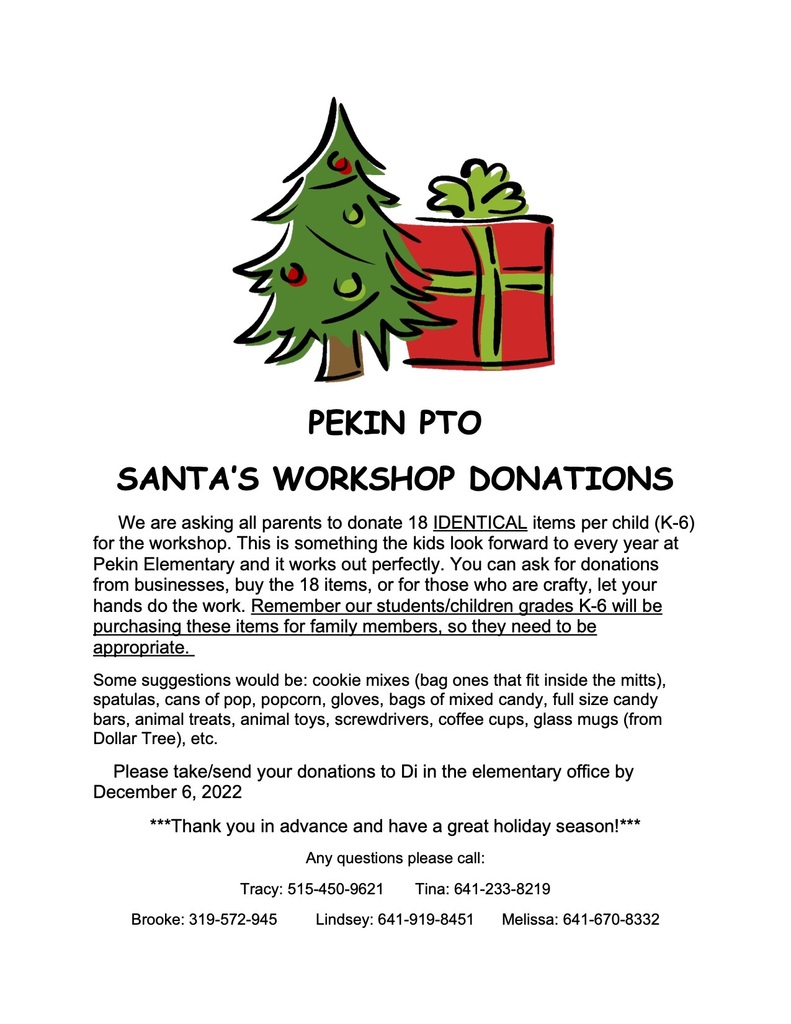 Mr. Philips sharing a Dr. Seuss book with kindergarten. #worththedrive#greatsuperintendent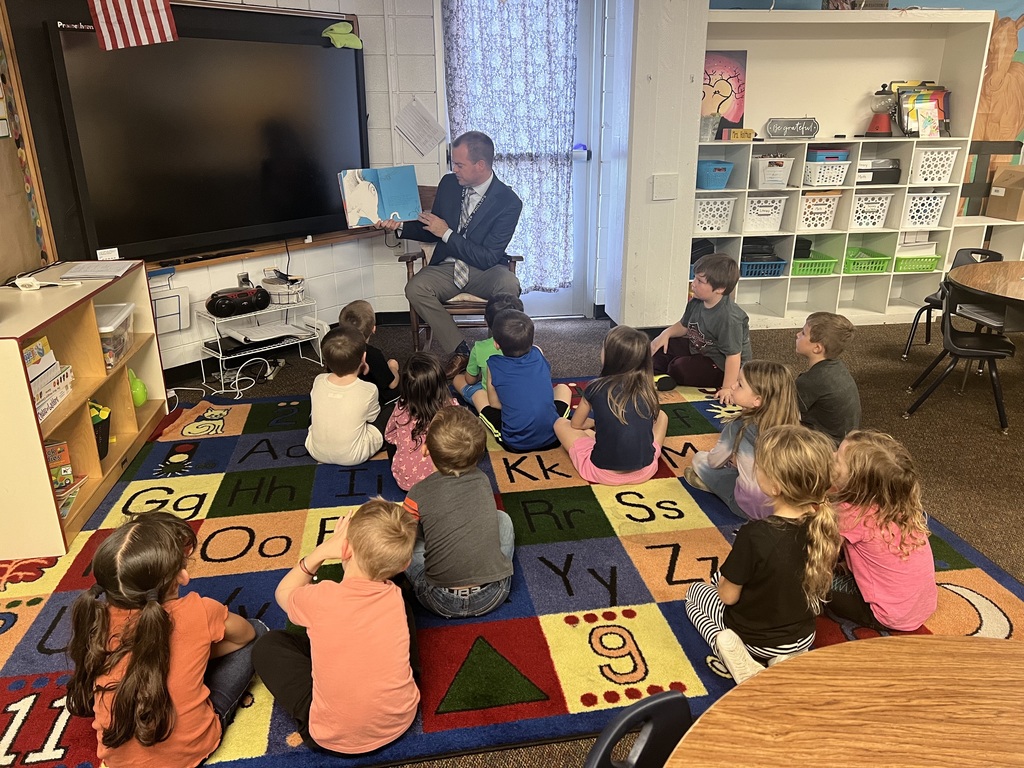 Congratulations Pekin Panthers!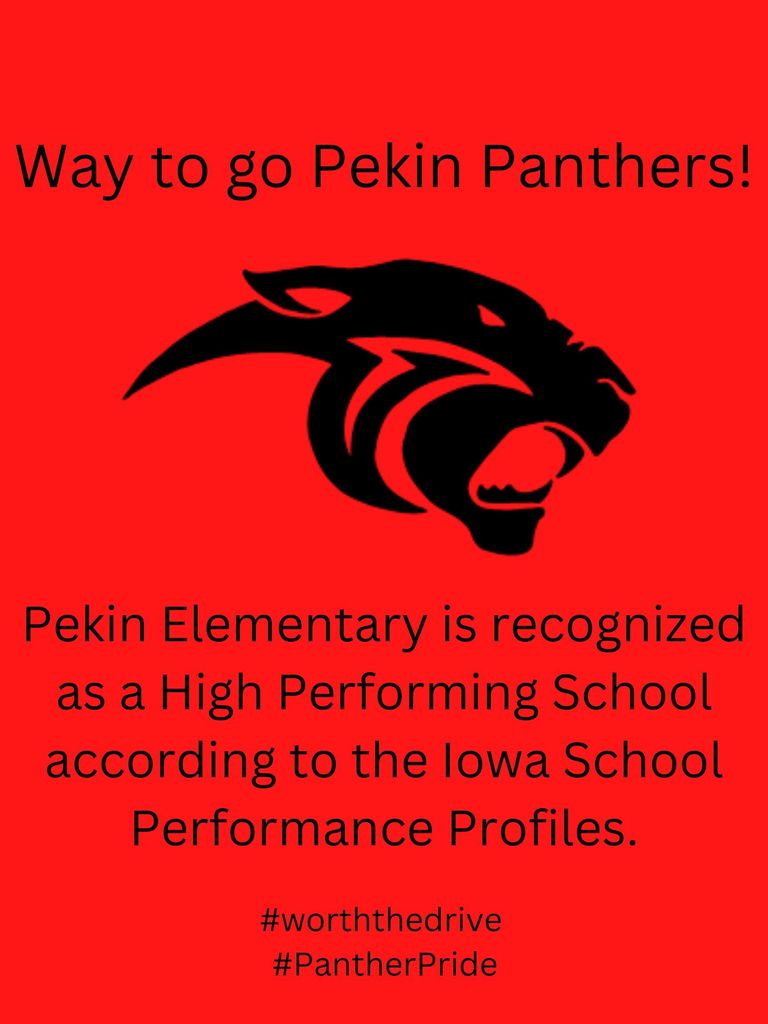 Elementary Music We have had a fun time in elementary music class so far this year. Students are back to singing, learning new concepts, dancing and playing new music games along with their favorites. Talk Like a Pirate Day is always a hit and students enjoy hearing their new pirate name. K-3rd grades are learning from our new curriculum on becoming Artful, Tuneful and Beatful. 3rd & 4th grades have also been delving into identifying the different kinds of notes. 5th and 6th grades are preparing for their upcoming concert on December 8th at 6:00 pm in the high school gymnasium. I have been sending emails concerning concert attire for our 5th/6th grade band members. Please be aware! I will be sending more detailed information as we get closer to our concert date. Hopefully students are sharing what they have been learning with you. If not, please ask them to share :0) Here are the Concert Dates for 2022-2023. Mark Your Calendars! Dec. 8th - 5th & 6th grade classes along with 5th/6th Grade Bands - Concert @ 6:00 pm March 16th - K-2nd Grade Music Concert @ 6:00 pm March 30th - 6-8 Grade Solo/Ensemble Contest (All 6th grade band members will be involved) Starts at 5:00 pm and will be assigned a time slot. April 27th - 3rd & 4th Grade Music + 5th/6th Grade Bands Concert @ 6:00 pm

November 7-12 Newsletter! Happy November!!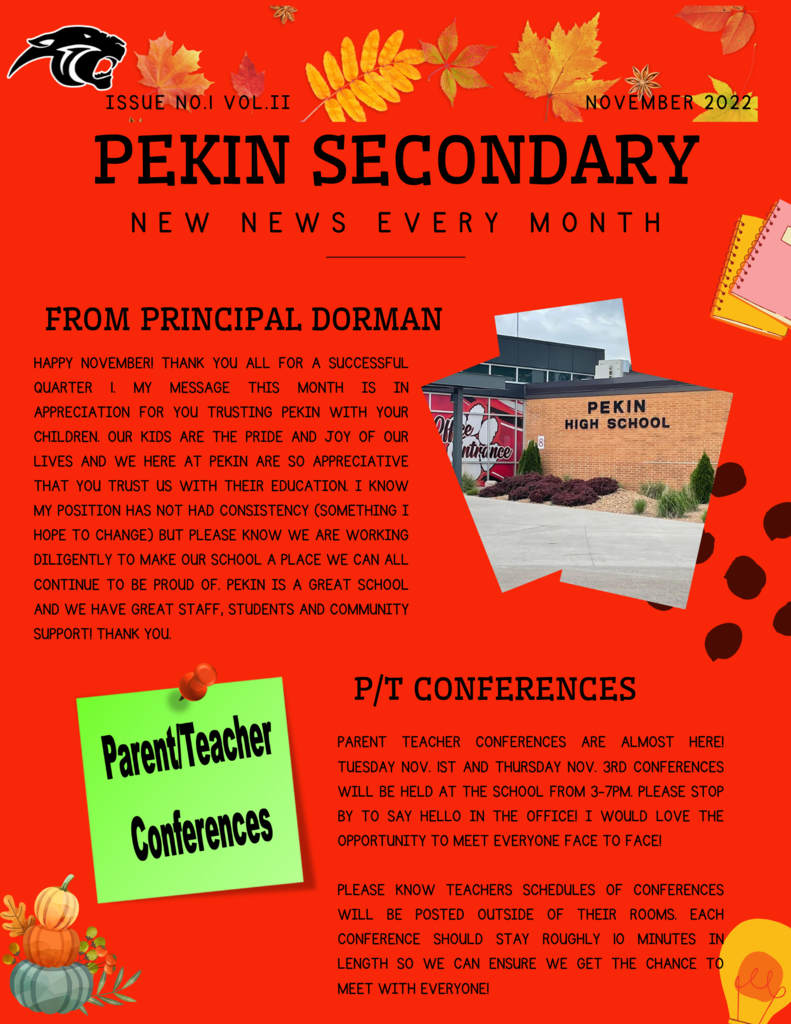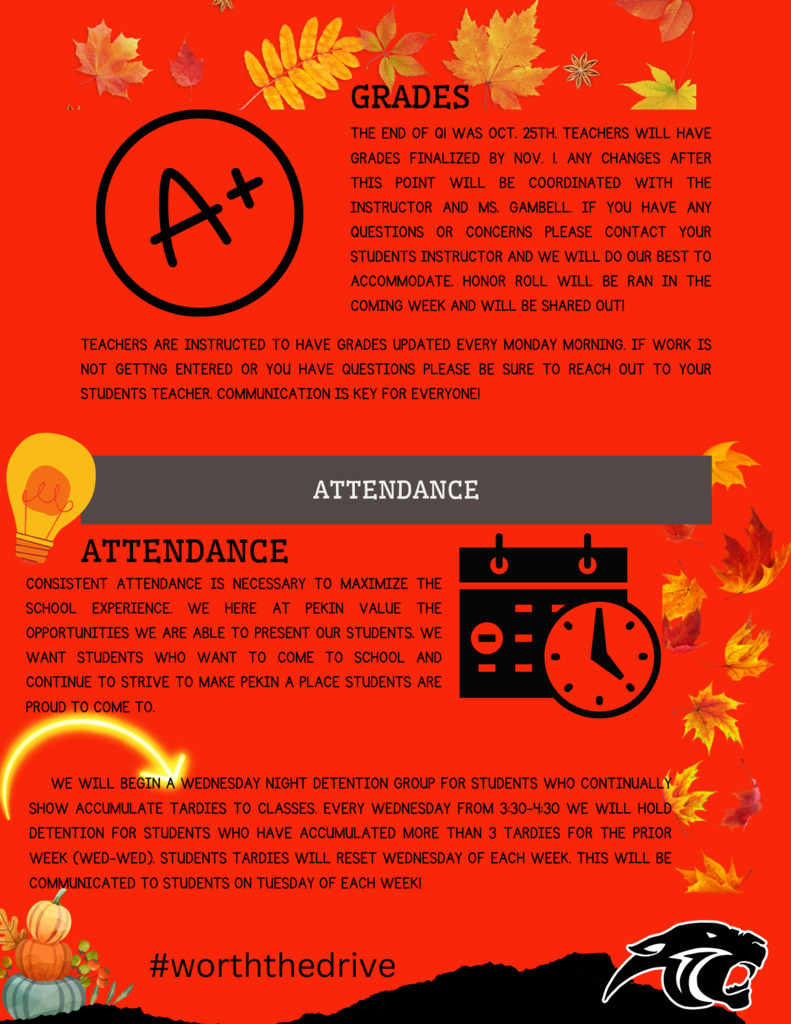 Parent Teacher Conferences will be held on Tuesday and Thursday next week from 3-7 p.m. School will dismiss at 1:30 p.m. both days and no school on Friday. The online sign-up for Parent Teacher Conferences will close on Monday at noon. We will utilize our online registration for Parent/Teacher Conferences through PowerSchool. Parents are responsible for signing up for conference times. Please do not just show up without registering, If you are unable to register, please contact your students teachers individually to set up a time.
PJ Day Monday and Crazy Sock and World Spina Bifida Day today. We all wore yellow and teal to show our support.#worththedrive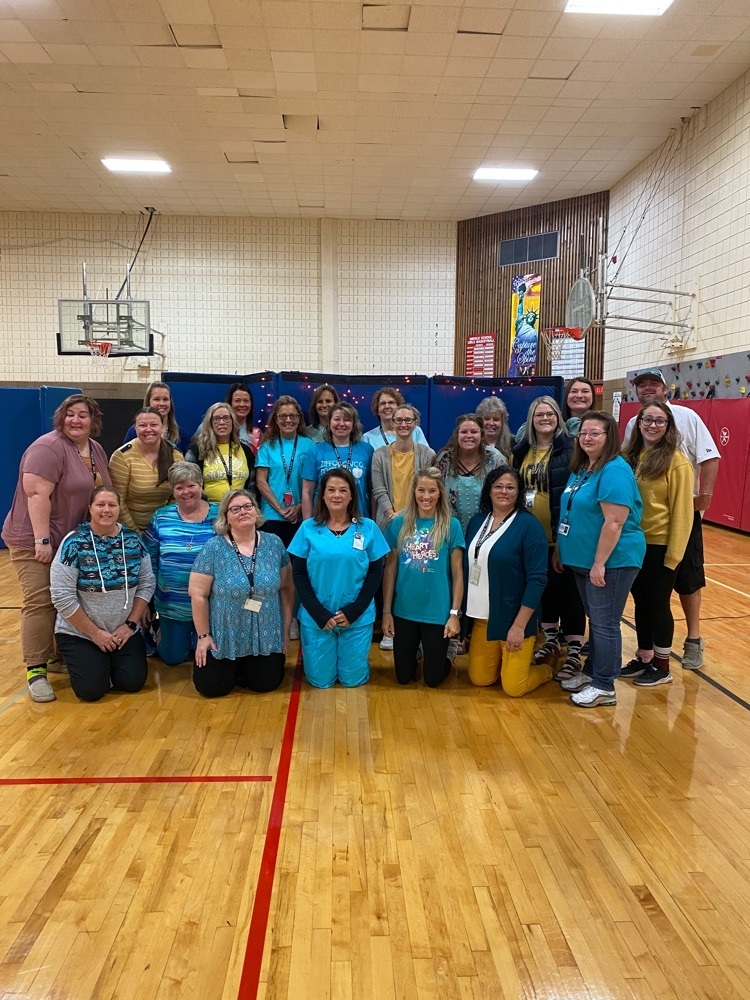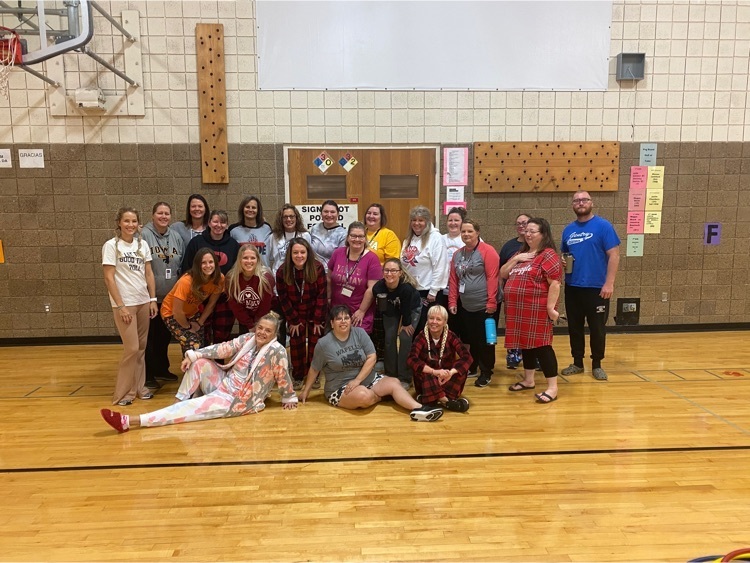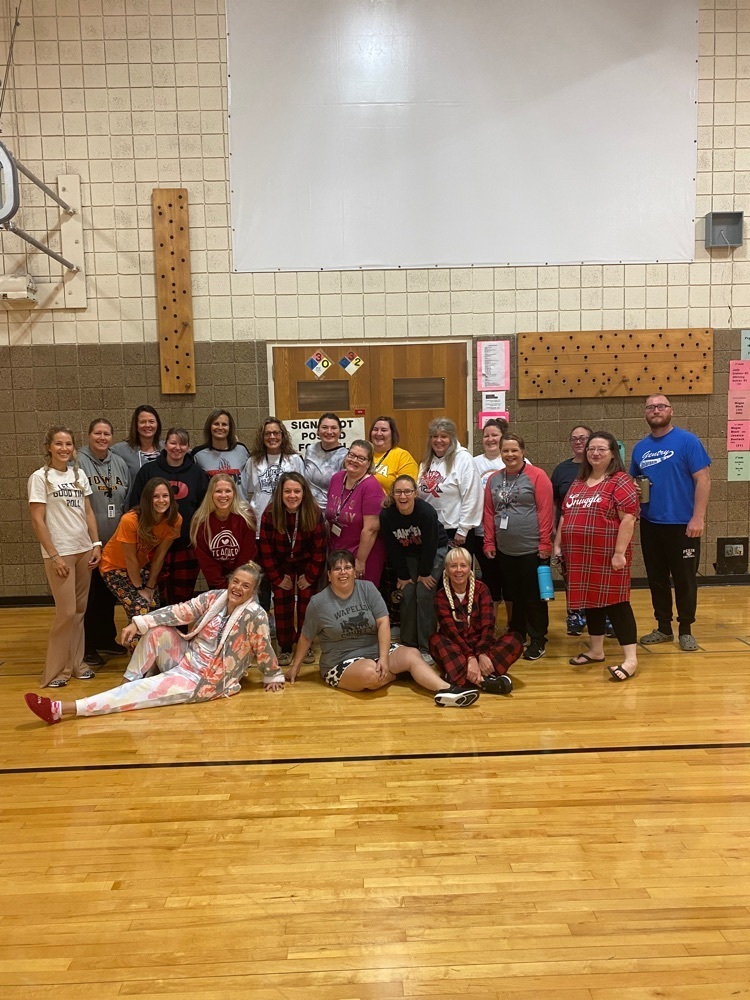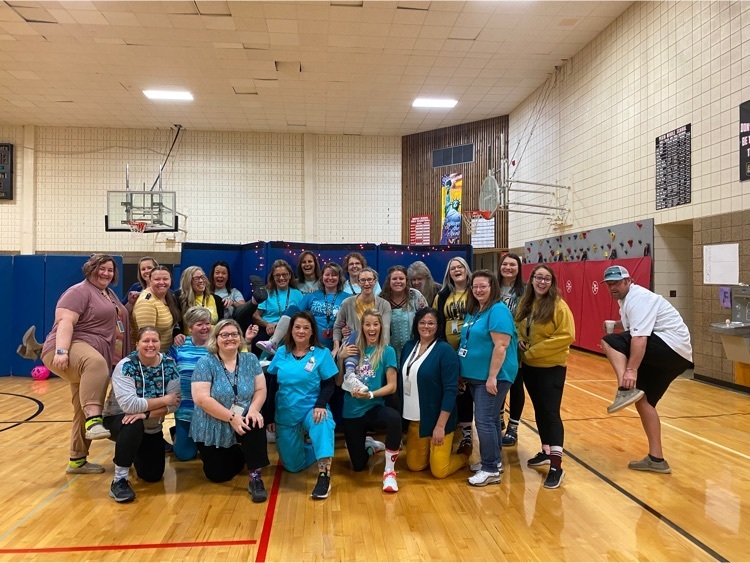 Day of Awesomeness is tomorrow! Thank you to everyone who helped with our fundraiser. The rest of the prizes will go out tomorrow. Reminder to wear socks and dress warm. #wortthedrive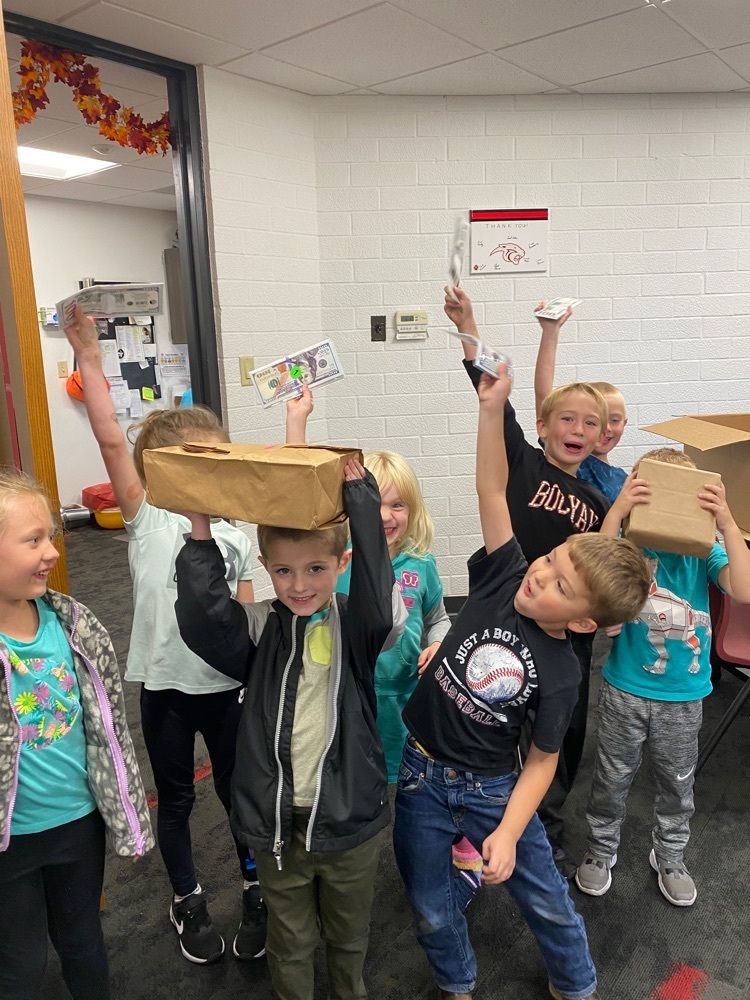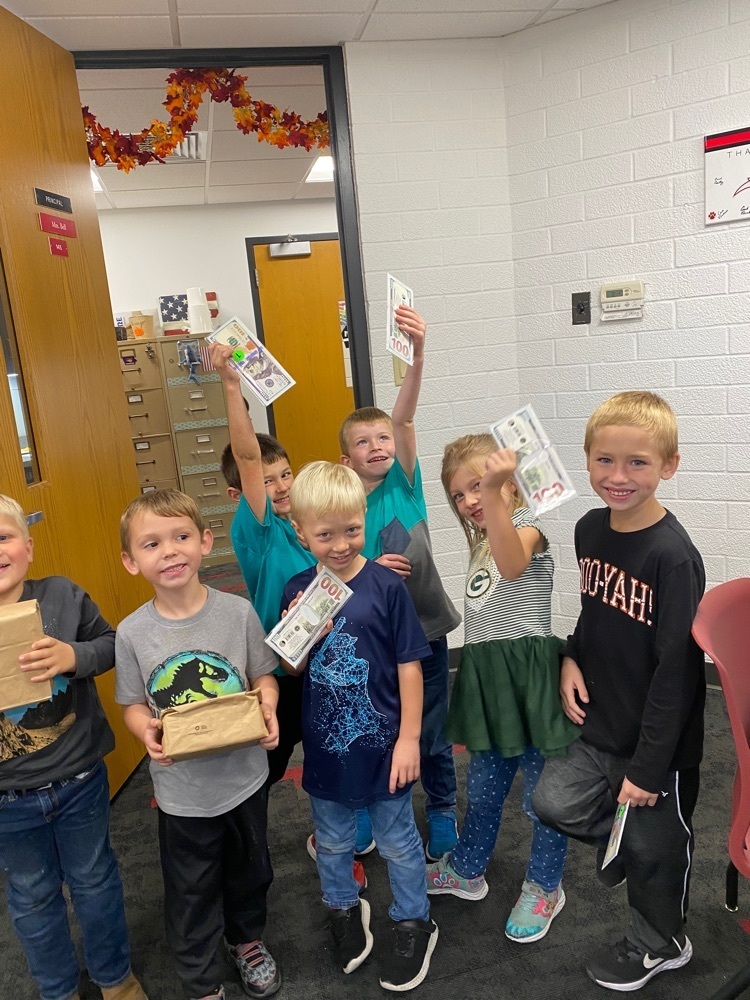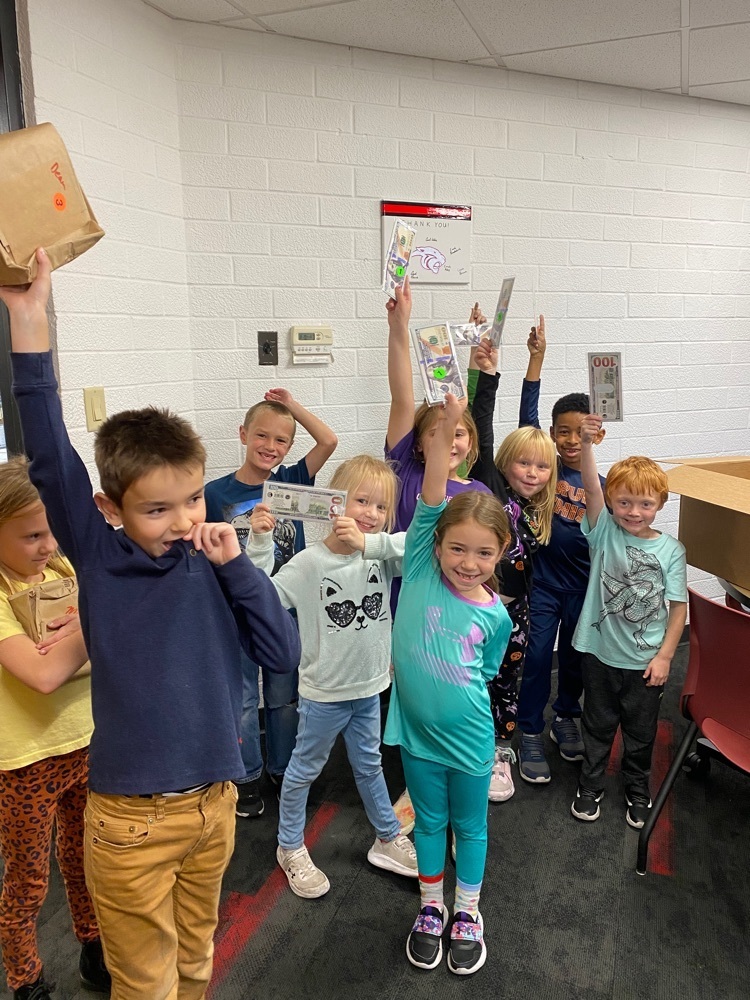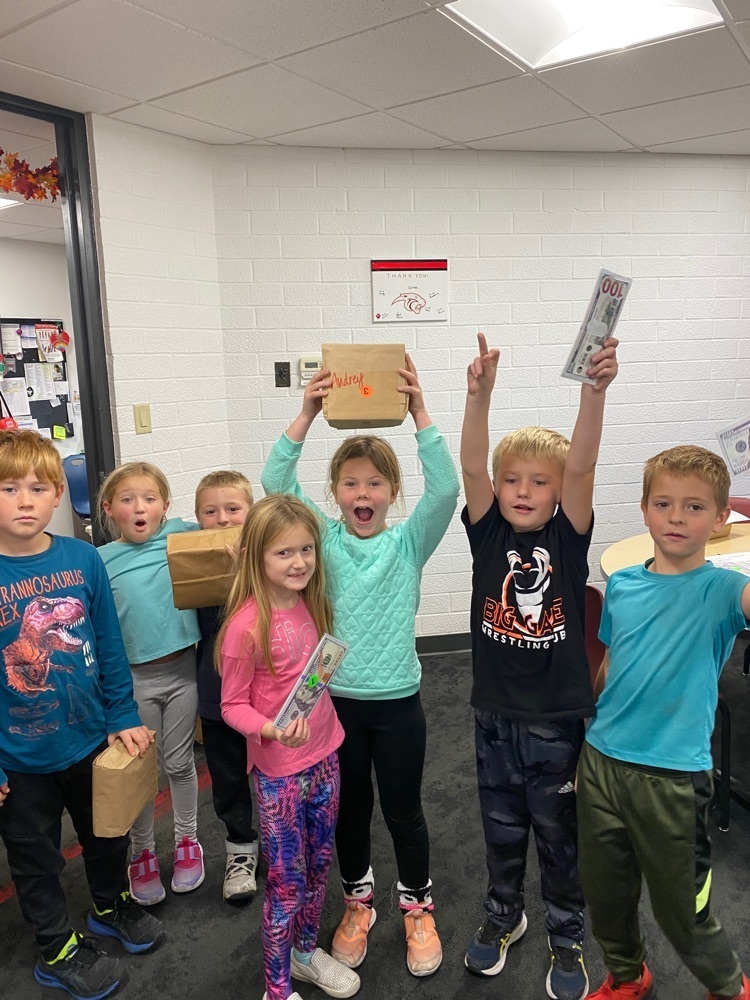 Pekin Youth Wrestling

Halloween and Red Ribbon Week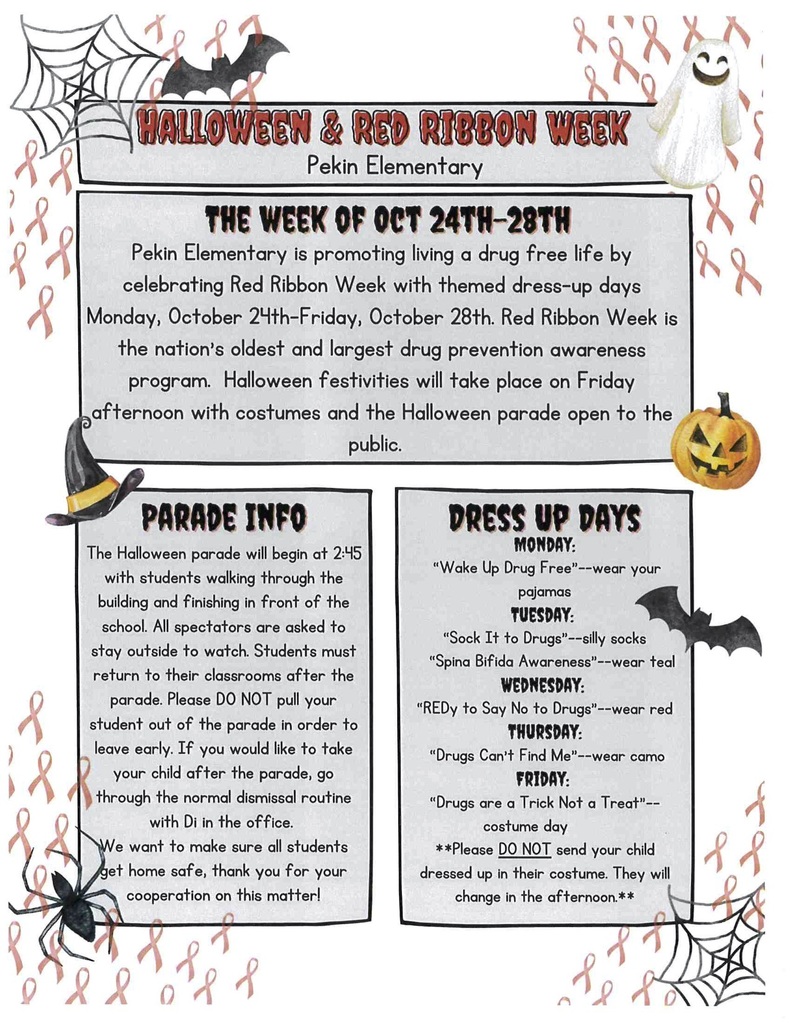 How to sign up for Parent Teacher Conference in Powerschool.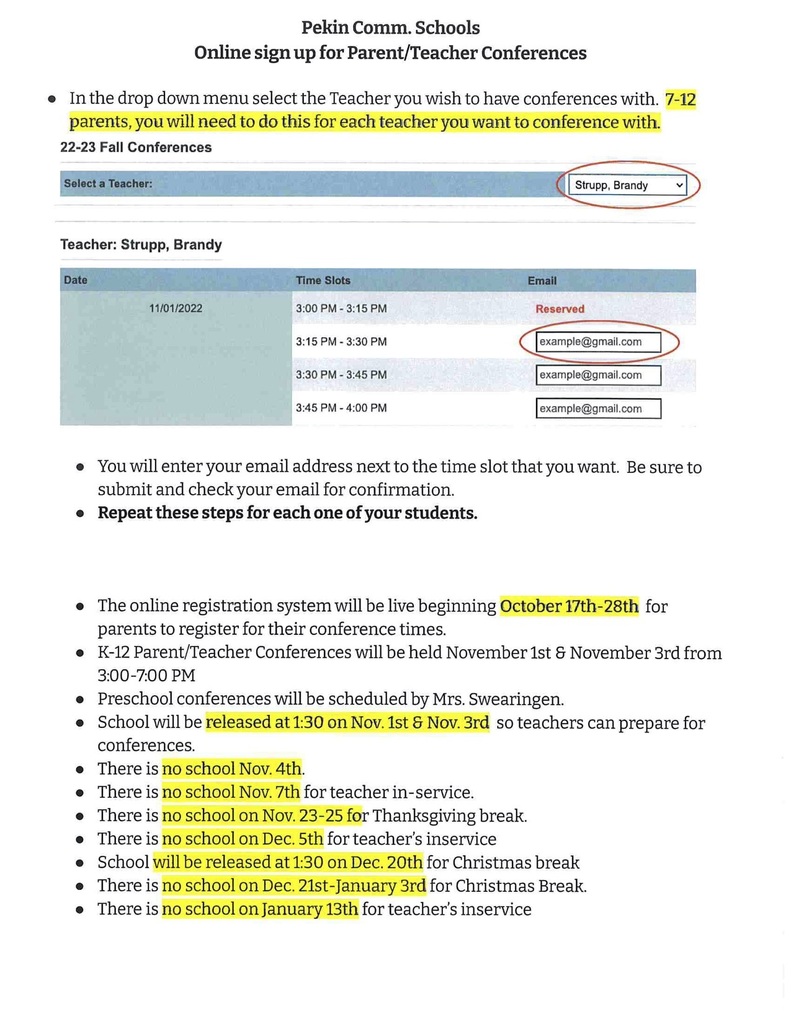 Elementary Basketball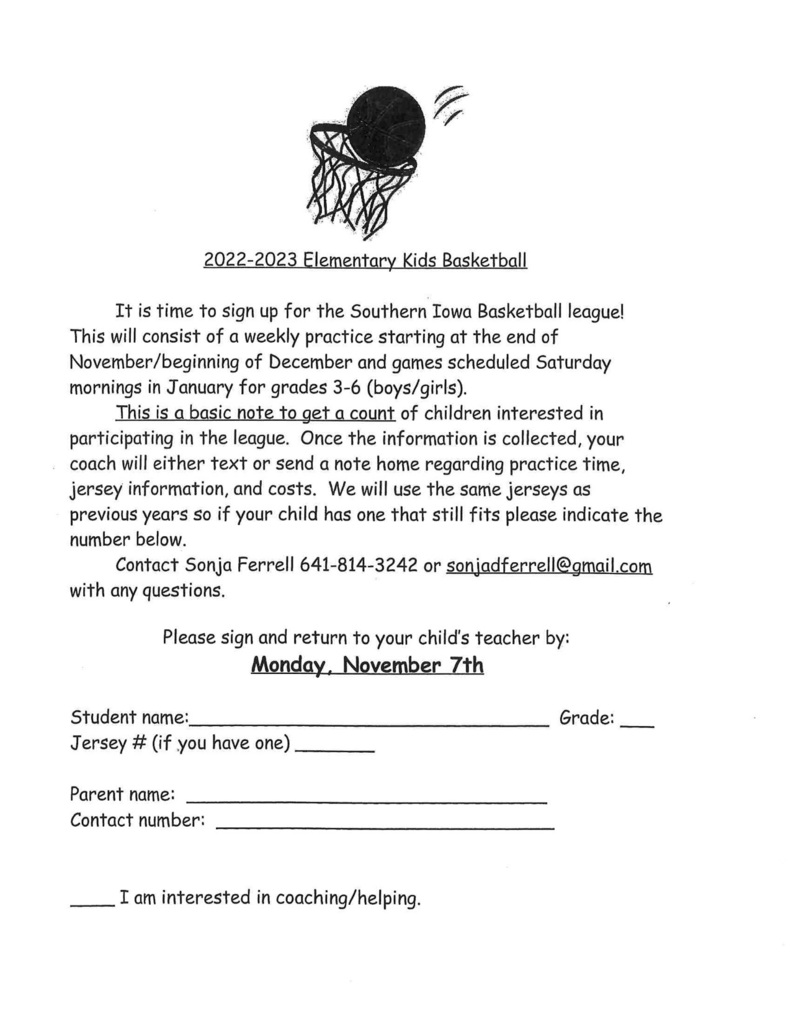 We have the best hot lunch around. Thank you to all the cooks for making National School Lunch Week so fun and our food so delicious. 😋#worththedrive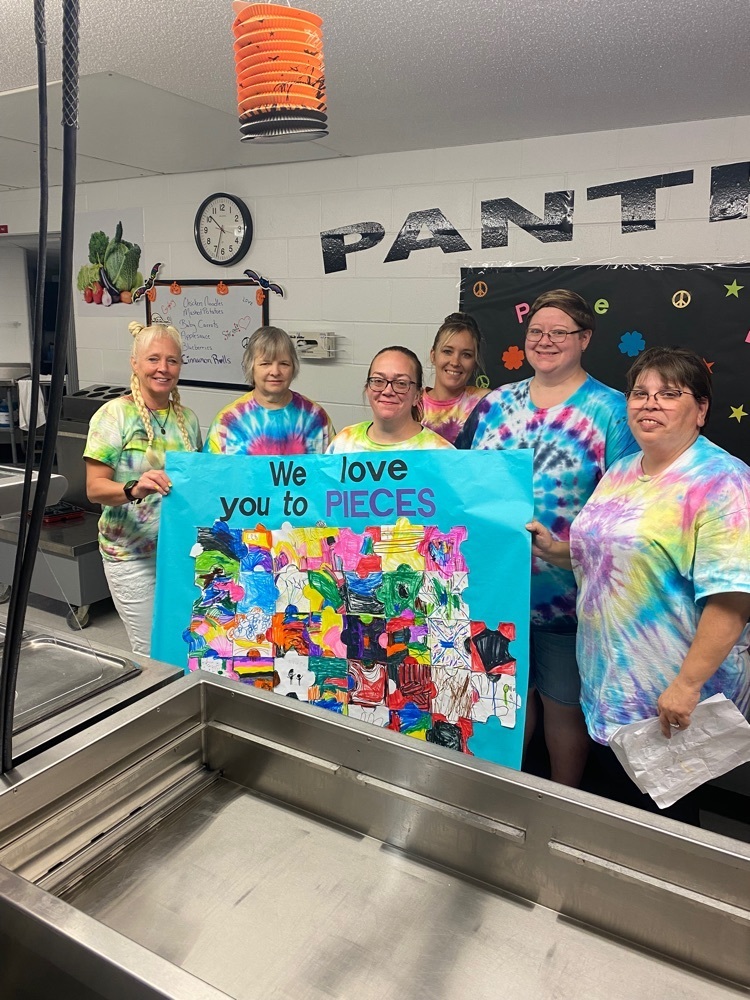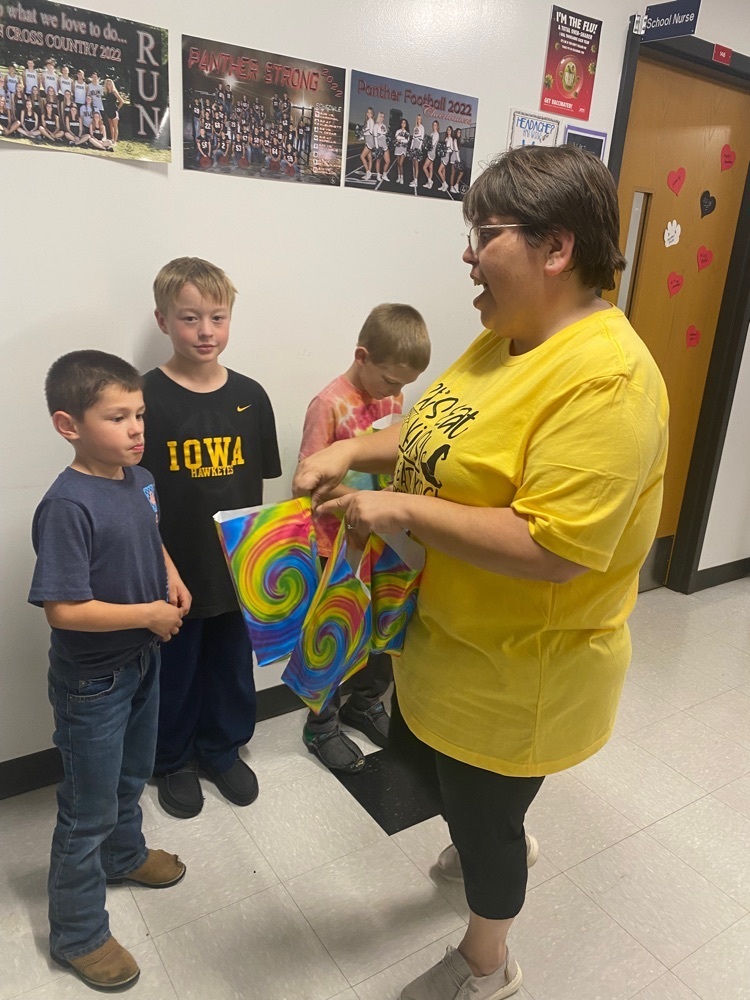 Sign up for Parent Teacher conferences are available online through PowerSchool! Reminder that P/T Conferences are Tuesday Nov. 1 and Thursday Nov. 3 from 3-7pm. Students will be released at 1:30 on both days as well! Hope to see you all there!

The T/Th Pre-School Class visited Mrs. Holthus' Kindergarten class to do some activities with apples.