Here is a tentative schedule for this evening. We are also attaching the order for senior recognition. Thank you and Go Panthers!!!!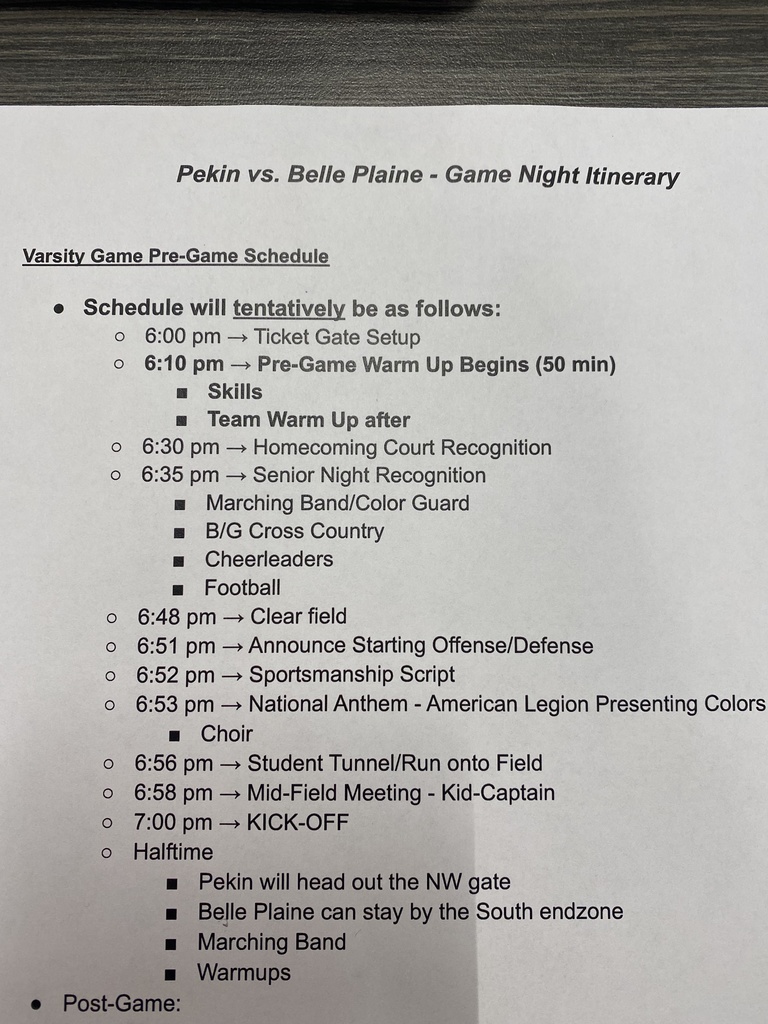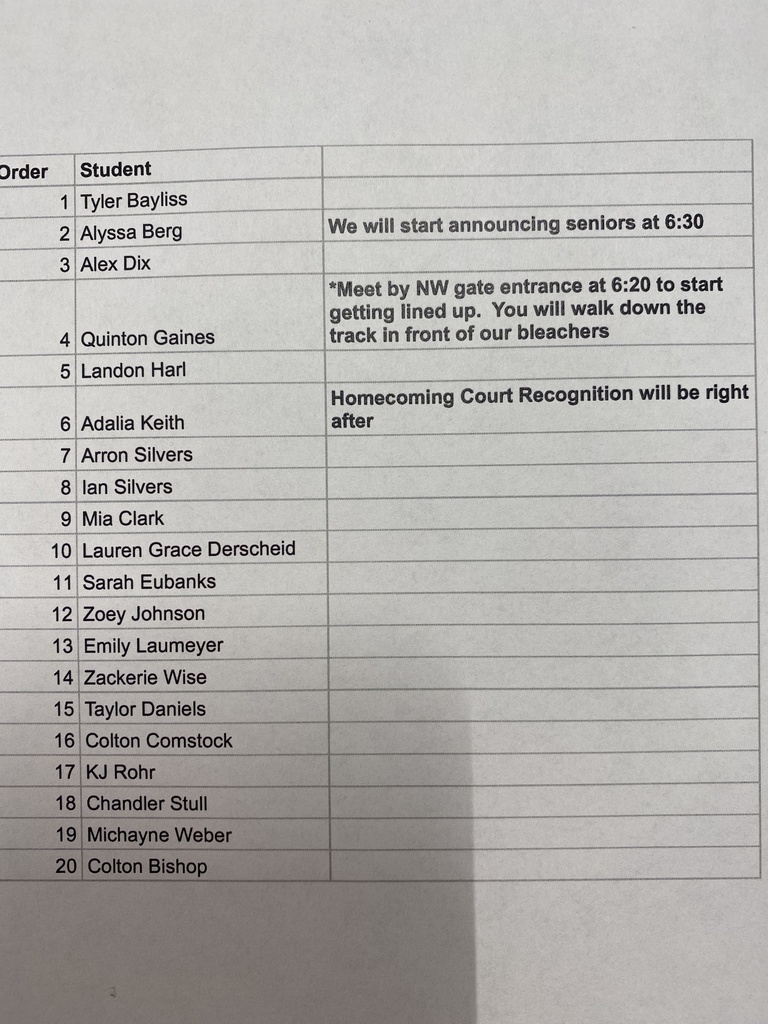 Pekin Banking is open for business with our newly trained tellers, Brin, Briggs, Kynsley, and Kendra. Thanks to Pilot Grove Saving Bank of Packwood, and Kortney Heald, for helping students learn about personal finance. Pekin Banking is open each Wednesday. For more information please contact Kortney at the bank or Di in the elementary office.

Here are a few reminders to Pekin parents. 1. All students at Pekin will dismiss at 1:30 p.m. on October 21st for the District Cross Country meet. This is a change in the original school calendar. 2. Only students eating breakfast, or who have appointments with staff, are allowed in the building before 8:05. All other students are asked to wait outside until the 8:05 bell. So, as the weather turns colder, or is rainy, please make sure your child dresses appropriately. Students are welcome to stay in the car with parents until the 8:05 bell to stay warm and dry. 3. Pekin Elem. will not have a school-wide Halloween parade. Individual classrooms will celebrate with special activities as their daily schedule allows. 4. Encourage your students to wear blue on Oct. 13th for National "Stomp Out Bullying" day. 5. Encourage your students to wear teal on Oct. 25th for Spina Bifida Awareness Day.

The Cardinal Pekin Dust Devils Trap Shooting team will be hosting informational/parent meetings on October 18th (Cardinal Elementary School Safe Room) and October 19th (Pekin High School Commons) at 6:30 pm. At the meetings, we will cover the following: Brief overview of our program Q and A Registration process Fall Fundraiser Information All interested can attend either meeting. If you are unable to attend but would still like information or plan on participating, please contact Jill Silvers at
cardinalpekintrapteam@gmail.com
.

"We've got spirit. Yes, we do. We've got spirit. How about you?" Pekin Elementary is gearing up for Homecoming week. Please join us by showing your school spirit with each of the different dress up day themes. Join us in cheering on the football team to a victory Friday night. Go Panthers!! Dress-Up Days for Pekin's Carnival on the Boardwalk Homecoming Tuesday: Dress like a Teacher/Student/Adult Day - Students dress like a teacher or adult in their lives and Teachers/Staff dress up like students! Wednesday: Twin Day - Coordinate with a friend to be twins! Thursday: Circus Day - Dress in your favorite animal print ( no costumes) Friday: Spirit Day - Dress in your best school spirit clothes - show everyone what it means to be a Panther!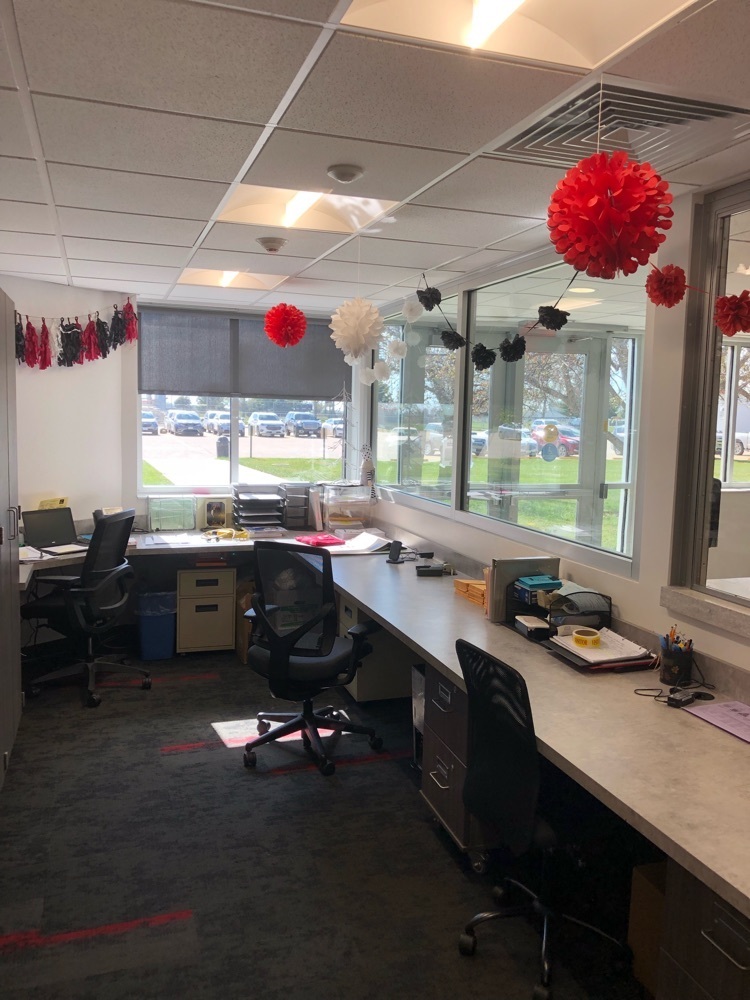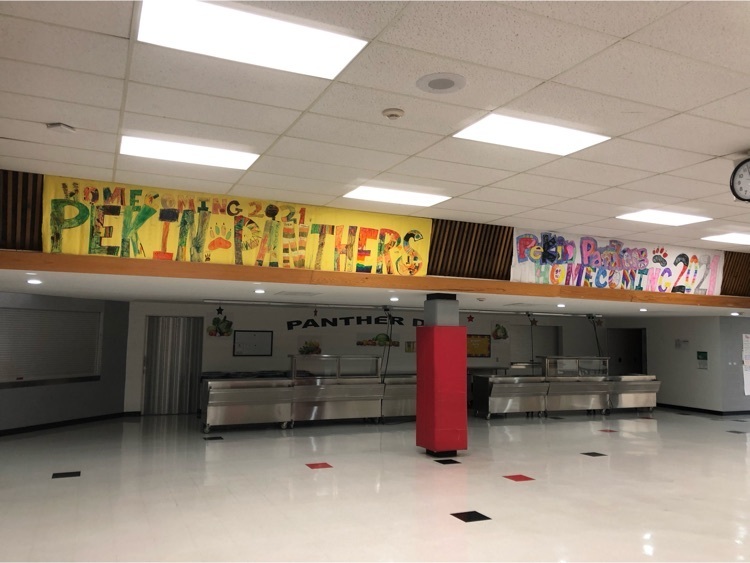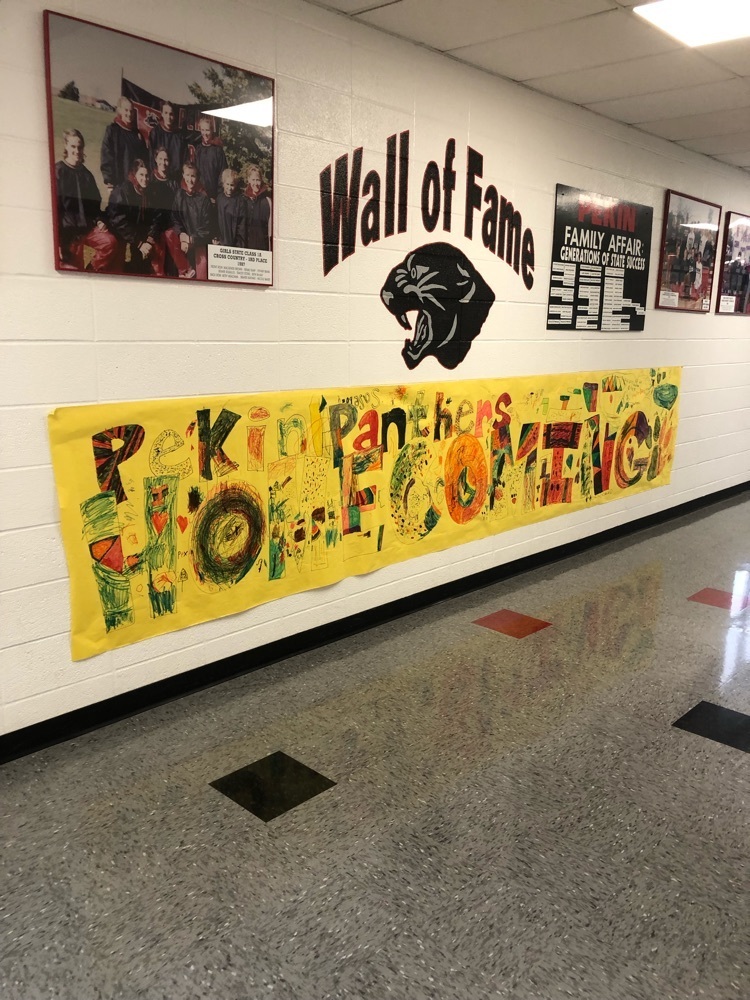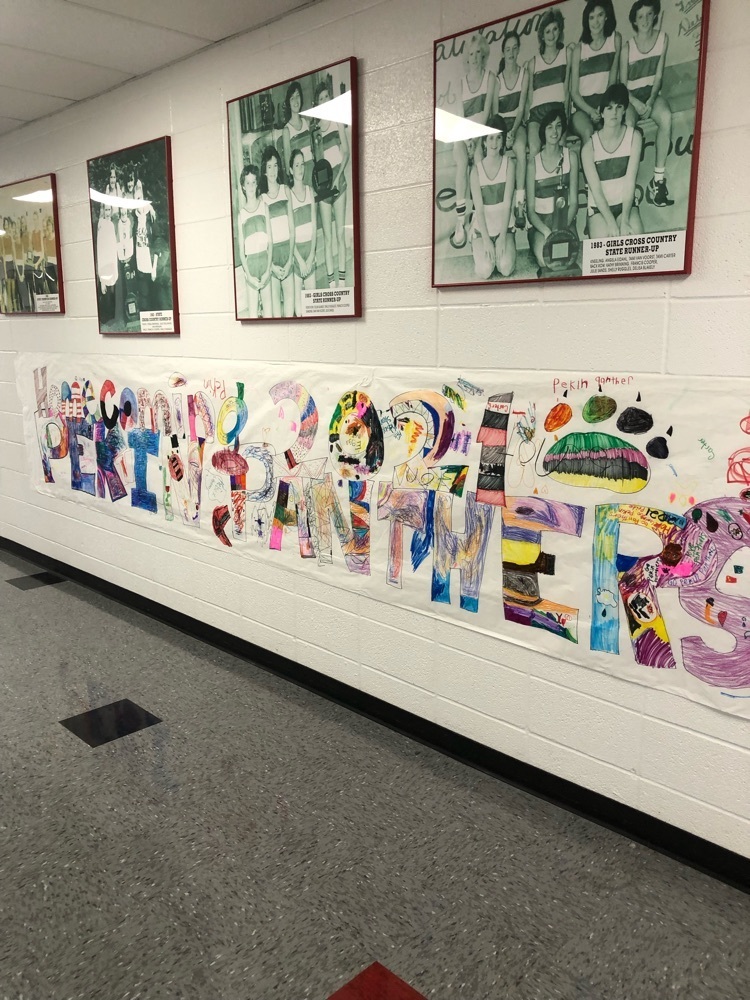 These young men and their coaches have been working hard! It was fun for our administrative team to be able to cook breakfast for them this morning!Thanks for being such good people and student-athletes! Great things are coming your way! We are proud of you!

Mike Mefford is assisting Gabe Gentry with his Passion Project for Mrs. Arendt class. She helps facilitate the learning by finding community resources to help students learn more about executing their ideas. What a great way to learn, and strengthen the great Pekin community connection.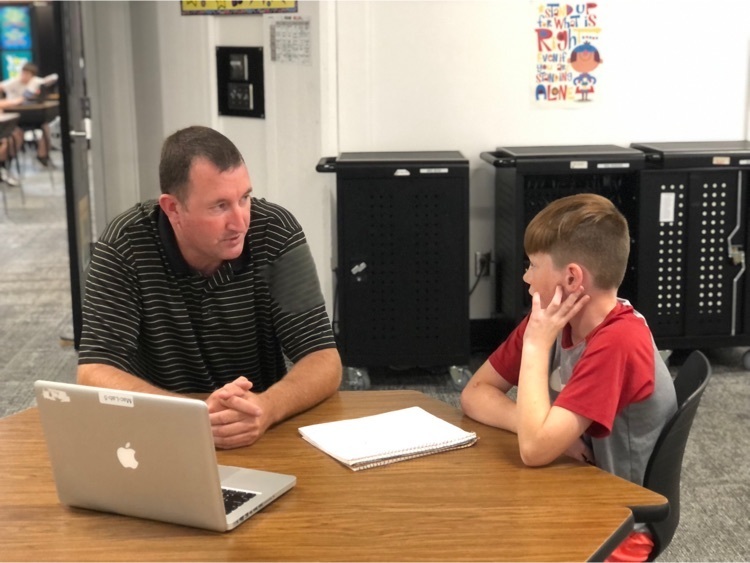 Third grade students and teachers were so excited to have Ethan join us back at school. He had been recuperating at home from a kidney transplant he received just before school started this year. To celebrate his return we took an all-class "Welcome Back Ethan" picture, made cards, watched a fun movie, and had treats. It was a very special afternoon!

Fourth Grade News! Coming into fourth grade brings a new responsibility for the 47 students who are in the class of 2030. Each student has begun the journey of learning how to use a daily assignment planner. The assignment planner is used as a home-school communication tool to let parents know what the students are studying in classes as well as any homework that may be completed for the next day. They are also message areas for correspondence between parents and teachers. This is a great tool to help the students stay organized to ensure a successful fourth grade year. In Reading the fourth graders started the year learning about the "Power of Yet" and "Don't Stop Believing" growth mindset mottos for Mrs. Scholtus's classes. For this the students listened to multiple stories, discussed not know things "yet", but what things they would learn throughout the year and worked on goal setting before starting the academic year. Then the fourth graders started using 95% Phonics program to learn how to break down words and spell words. There will not be lists to study or Friday spelling tests this year as it is embedded into the phonics and writing work. This was done last year with a huge amount of success!! Reading class started with reviewing multiple strategies using task cards. Currently the students are reading their first story "Because of Winn Dixie" from our "Journeys" series. The students are also working toward their AR points goals for the first quarter. Please have your child read 5-10 minutes every night to help them work toward their goal. In Math the fourth graders are continuing to use our math series, "Everyday Math." This is an aggressive math program that should help our students reach a deeper understanding of math. Everyday Math has many activities and experiences to assist the students learning. We started this year with working on a place value, numbers and operation unit. We are now starting to work with geometry, multiplication and division. The fourth graders will also continue expanding their knowledge of math by using many on-line math programs. In Science we are training our brains to think, write, draw, and teach like scientists, more specifically, Energy Scientists and Electrical Engineers. We have been experimenting and creating parallel and series circuits. We are observing different components of a circuit and how they present energy through light, sound, or motion. We will continue our studies with magnetic energy, electromagnetism, energy transfer, and waves of energy.

Third Grade News Third grade takes the prize this year for the largest class total in the elementary! There are 60 kiddos , 26 girls and 34 boys., who as teachers we hope are anxious to learn a lot this school year. Being departmentalized for the first time in the 3-5 wing, these third graders see Mrs. Millikin each day for science or social studies, Mrs. Coble for language arts, and Mrs. Atwood for math. Early in this year everyone is learning the responsibility of keeping daily "take-home" folders for homework and completed work. This organizational folder will then be replaced next year with a daily planner. Party committees have been organized for Halloween, Valentine's Day, and Easter in which each student serves once during the year on refreshment, movie, and clean-up groups. Everyone is already looking forward to the first party! Millimoney auctions have quickly become a favorite end of the day experience on Friday. Millimoney can be gained during any class period. Students can spend incentive millimoney they have earned on items up for bidding during a live auction. Students can even bring items from home for selling if a parent has given permission. PBIS is another school-wide incentive with rewards for demonstrating appropriate behaviors in all aspects of the school setting. Each Friday students have a chance at a weekly prize drawing and throughout the school year work to accumulate tickets that add together for larger prizes for students' PBIS achievements. Boys and girls are really starting to "dig in" to the subject areas for third grade by now. In Mrs. Coble's language arts periods, they are working on restating questions and reviewing spelling patterns. Science classes with Mrs. Millikin are conducting explorations using a FOSS kit. The subject is: Matter and Motion. This kit promotes a "hands-on" approach to learning. So far students have worked on concepts involving magnets, forces, wheel-and-axle systems, and eventually will be engineering a cart. In math, with Mrs. Atwood, classes are studying telling time to the nearest minute, rounding to the nearest 10 and 100, and beginning work in multiplication. We all believe we are off to a fantastic start in third grade!

Dear Parents and Guardians: Welcome to a new school year in second grade! Throughout the year, students will be participating in the Accelerated Reader (AR) program. Students will have their own individual goal each quarter. They are able to meet this goal by reading books in the classroom and passing quizzes. At the end of each quarter if students meet their goal, they will participate in an AR celebration. Everyday Math will be continued this year in second grade. The students will have homework each night that needs to be completed and brought back the next day. On the onset of each unit, a family letter with an overview of the chapter will be sent home. As a second grade expectation, students are responsible for returning their homework the following day. If they do not complete and return their homework the following day, students will receive another copy and complete it at recess. This year we are going to be working on phonics with a program called HD Word. This will all be done in the classroom. As a result of that, there will not be any spelling tests this year. We will work on spelling patterns, recognizing words and vowel sounds in the classroom. If you signed up to provide treats for a holiday party at open house, we will send home a reminder prior to the party. When it is their birthday, students may bring birthday treats for their classmates if they choose. Due to our scheduling, birthday parties would be best at the end of the day. Second graders are doing snacks this year. Each month a snack calendar will be sent home with your child's name on it. Please provide a snack for the class on that day. As a reminder, Mrs. Neff's class has 15 students. Mrs. Brown's class has 15 students and Mrs. Bradshaw's class has 16 students. We would like to encourage you to spend time with your student reading each night. We look forward to a great year in second grade! Mrs. Bradshaw, Mrs. Brown and Mrs. Neff

Dear Families! Just a quick THANK YOU for helping your student use their AWESOMENESS to help others! Since our STEP IT UP! Fundraiser is coming to an end, please log back into your Personal Donation Page and be sure your child has reached the goal you helped them set. Every dollar raised makes a difference in the lives of our students, and helps us complete our playground expansion project.
www.stepitupkids.com/PekinES52580
All online and check donations are due by September 22. Please turn in cash and check donations in an envelope with your students' name on it to the main office. Please make checks payable to Pekin Elementary. Thank you again for everything you're doing to make this fundraiser a huge success! Attached is the Golden Ticket Packet that includes a Donation Sheet and prize information! The staff and students thank you for your generous support as we continue to strive to give our students the most AWESOME school year yet! Mrs. Ledger Questions about how to complete your Golden Ticket? Click here:
www.pop4kids.com/golden-ticket-how-to

The JV Football game against Wapello tonight will start at 5 PM at Pekin.

So proud of all of our students and our staff on so many levels! The FB team gathered for a Friday morning "bacon and eggs" tailgater! These guys and their coaches are laying the foundation for future success! XC running strong! VB teams improving every week! Mr. Hatfield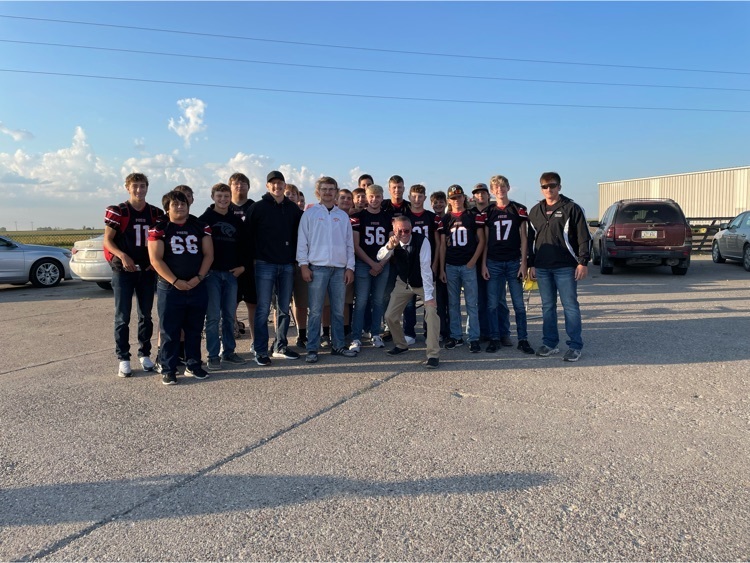 Congratulations to our 2nd mini-fridge winner, Deklan!! Look at all that cool cash! Simply send out 20 + emails for our fundraiser and you will be entered into the drawing for a mini-fridge. I have 2 more to give away, so send those emails today!!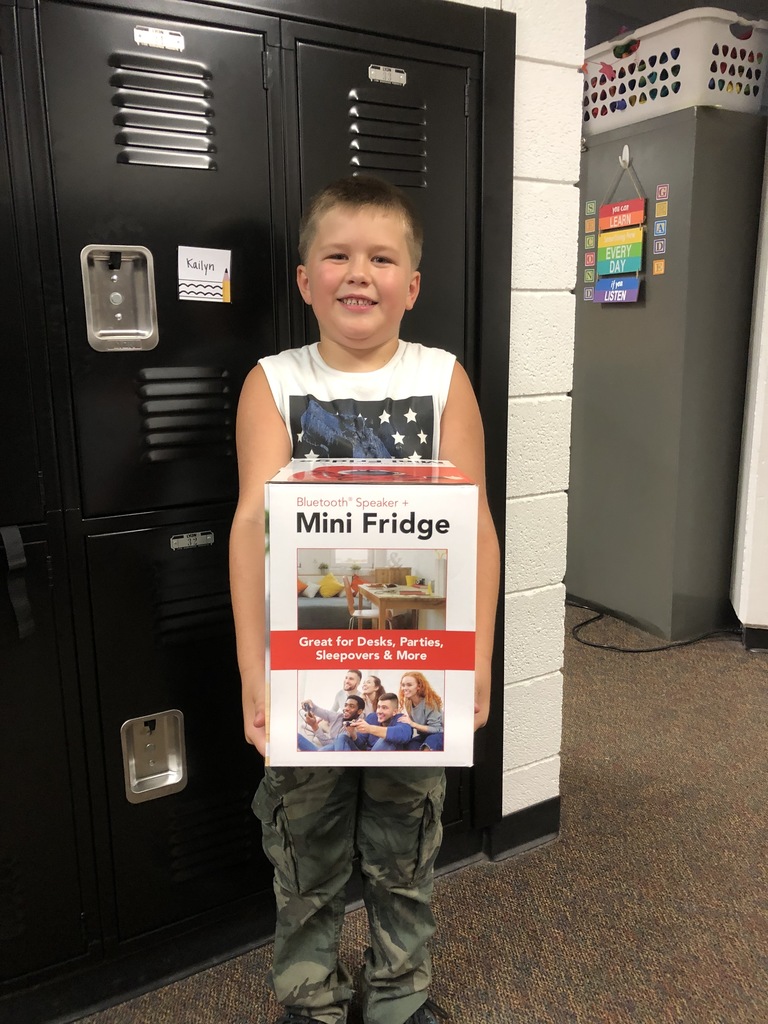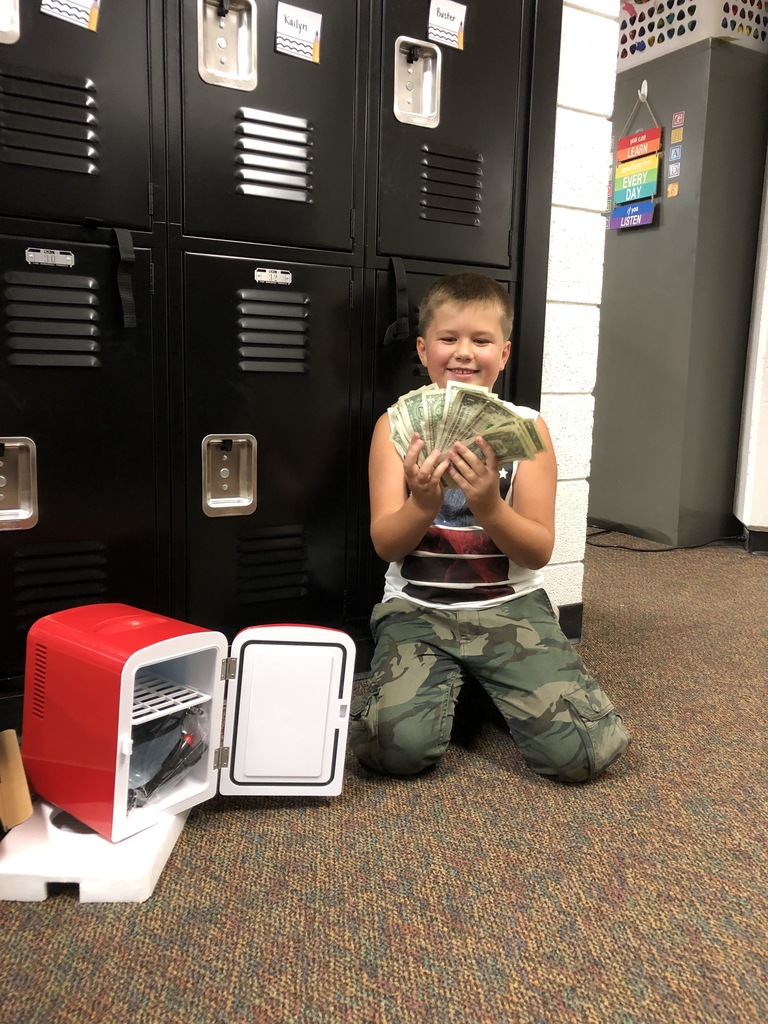 Congratulations to Liam, our 1st mini-fridge winner. Check out that pile of cash and his big smile.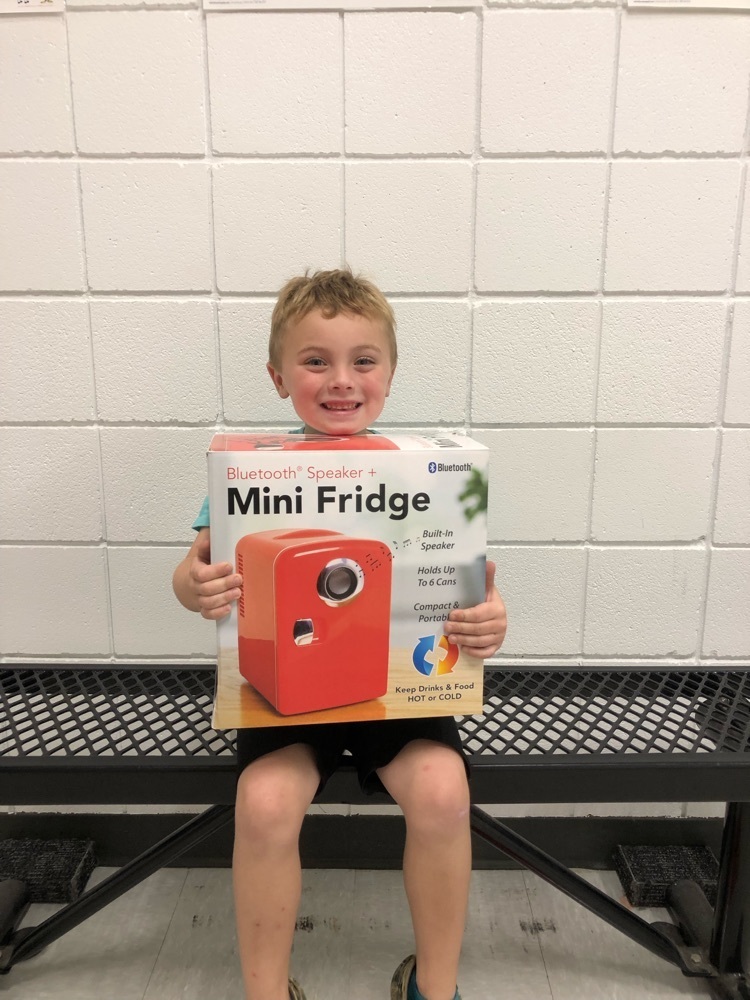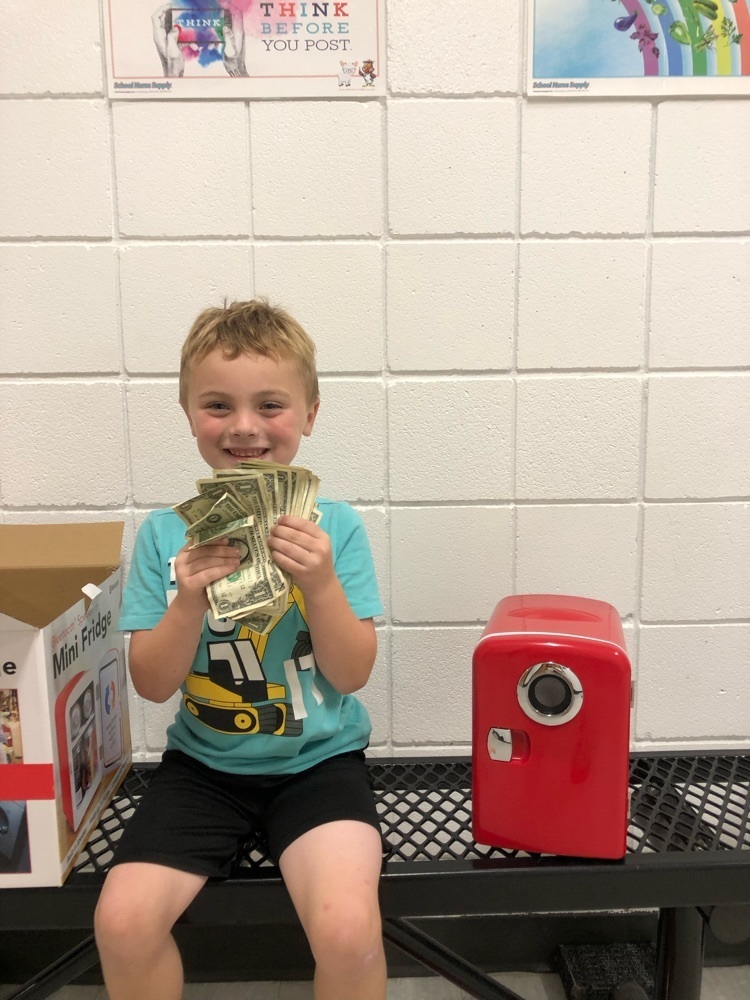 Dear Families! WE ARE OFF TO AN AMAZING START! We have raised $2545 in donations and pledges so far. Our goal is $20,000 to help with the final phase of our playground expansion project. In the past 24 hours, hundreds of families answered our CALL TO ACTION, sending thousands of donation invitations to friends & family around the world! What a great way to support your student using their AWESOMENESS to help others! The more emails we send out, the more support our project receives. The response was so amazing, we have decided to extend the deadline another 24 hours! That's right: If you didn't yet have a chance to register and send donation invitations, click the link below and join our REVOLUTION of FUN!
www.stepitupkids.com/PekinES52580
If you complete the Golden Ticket assignment and return it to school tomorrow, your student can still win prizes! Later this week we will be randomly drawing students' names and giving away some amazing bonus rewards. Don't miss out! Register and send 10 donation invitations tonight and your child can still be part of the GOLDEN TICKET fun! It's never too late to make a difference! Thank you in advance for your support! Mrs. Ledger PS: Attached is the Golden Ticket Packet in case you missed it. Enjoy! Questions about how to complete your Golden Ticket? Click here:
www.pop4kids.com/golden-ticket-how-to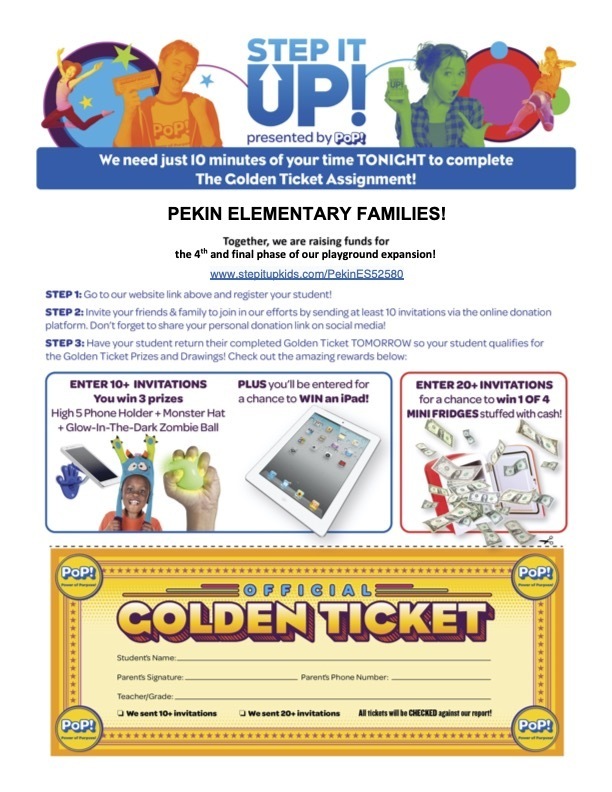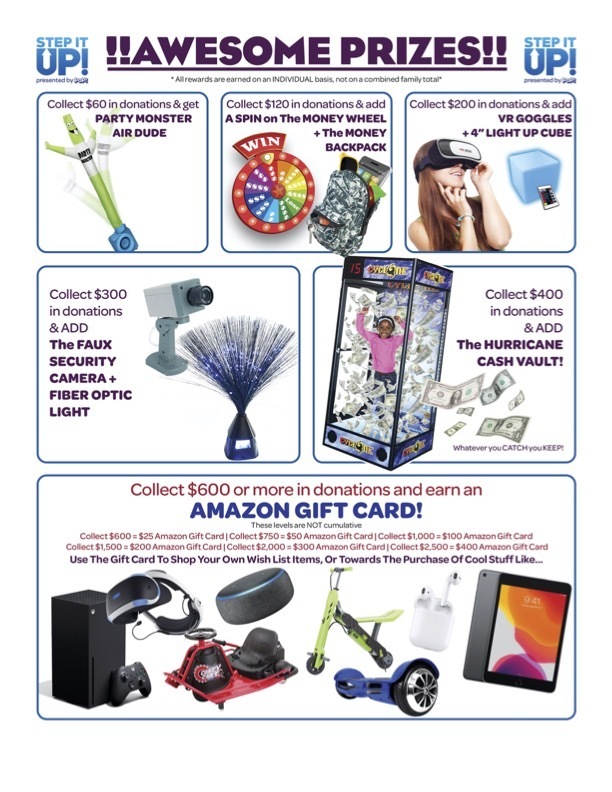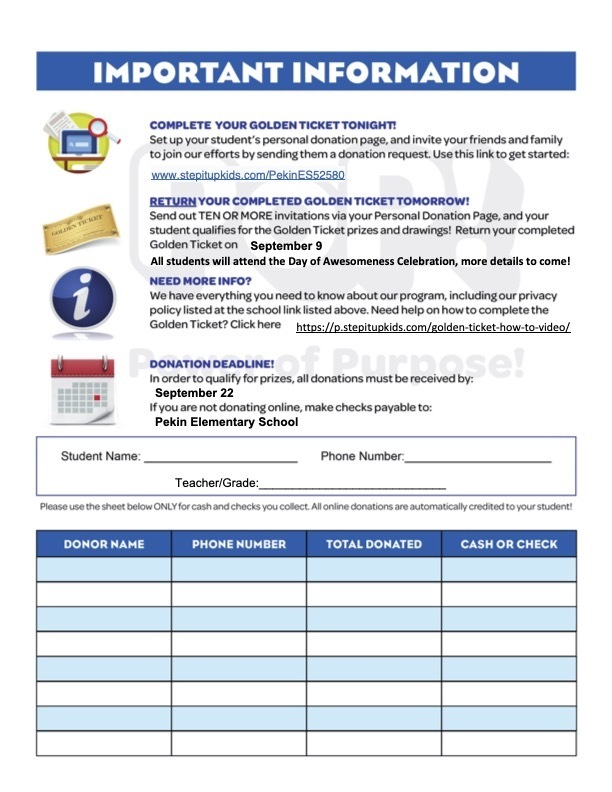 Dear Elementary Parents and Families: Our school year is off to an AWESOME start, which is why we are SO excited to invite all of you to participate in our Step It Up! Fundraiser. We need your help to raise money for: the final phase of our playground expansion. Our next step is to ask each of you to take action TONIGHT by clicking the link below. It will take you to our school's fundraiser website where you can set up your child's Personal Donation page and invite your friends and family to join our efforts by sending them a donation invitation.
www.stepitupkids.com/PekinES52580
This entire fundraiser can be completed in TEN MINUTES OR LESS. Please send out TEN or MORE donation invitations via your Personal Donation Page and your child will qualify for Golden Ticket prizes and drawings! Once you have sent at least 10 donation invitations please sign the Golden Ticket your student brought home and have your child return it to school TOMORROW to be part of the fun! Every donation big or small will help our school. Please help us reach 100% participation TONIGHT, so that we can continue to fund and support our students' bright and amazing future! Sincerely, Mrs. Ledger PS: Attached is the Golden Ticket Packet that was sent home with your student today and general fundraiser information. Check it out! Questions about how to complete your Golden Ticket? Click here:
www.pop4kids.com/golden-ticket-how-to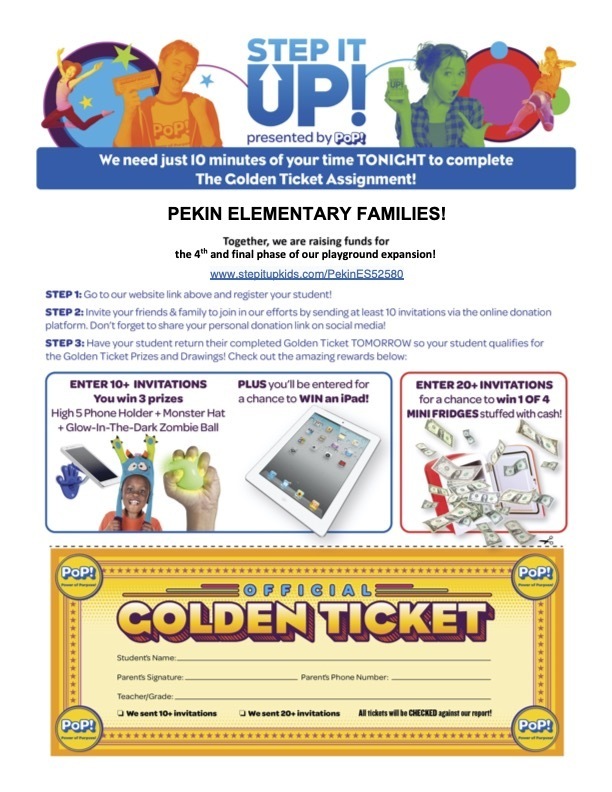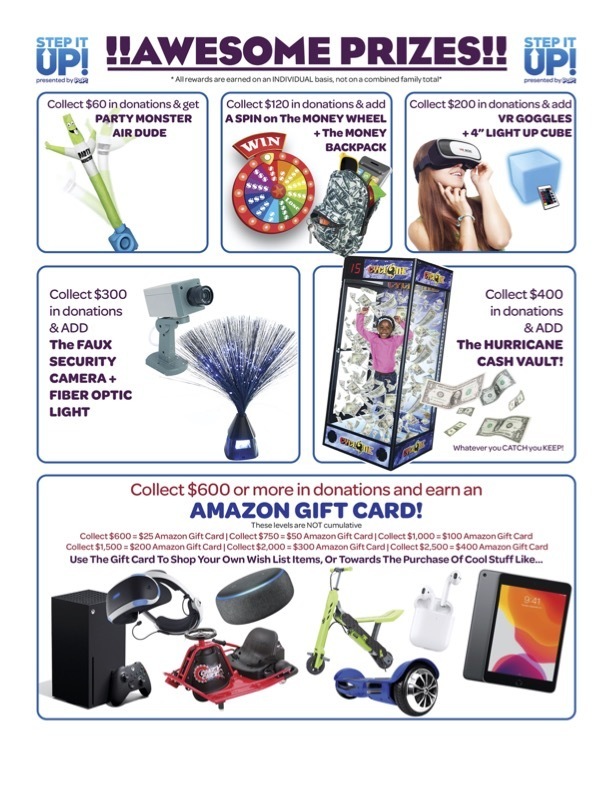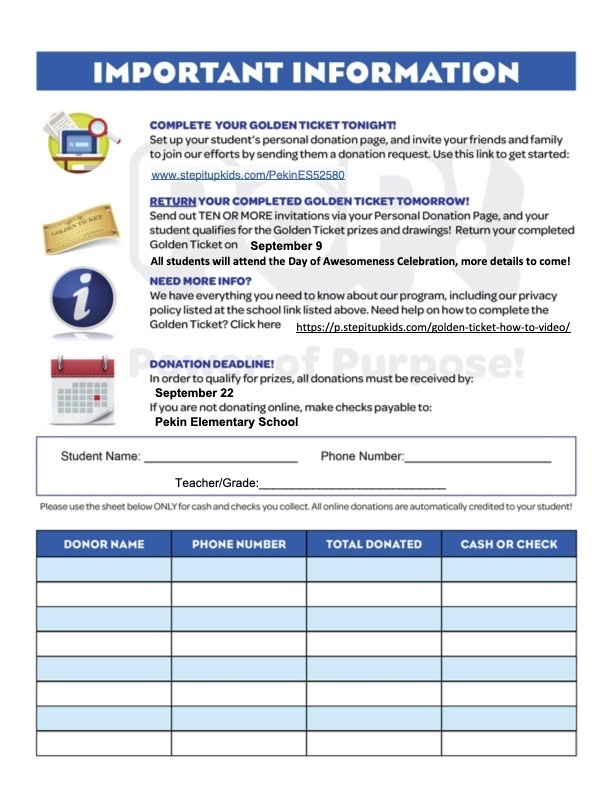 First Grade News We're having a great start to first grade this year! We, as teachers, feel that first grade is very important for your child as they set habits for success in school! Listed below are some noteworthy items that you'll find in students 'take home' folders. Please check their folders daily and assist your child with homework items that will need to be returned to school. Spelling - On Mondays, we take a pretest of our spelling words that we'll be working on for the week. The spelling words align with reading skills that are being taught. Students will be using these spelling words throughout the week, but will need to practice at home as well. We'll be taking a graded posttest on Fridays. Rainbow Words - Each child has a keychain with some red words on it. This is called Rainbow Words. Each color of the rainbow represents an increasing level of difficulty of our first grade sight words. Practice with your child every night. When they are able to come to school and read through the entire colored list quickly and accurately, they will progress to the next color. Math - This coming week, your child will be bringing home a 'Home Link', which is math homework. Their Home Link will review the math lesson for our day so that you may reinforce the learning taking place at school! We ask that Home Links be returned the following day. Thank you again for checking your child's 'take home' folder and sharing in the happenings of their school day!

Kindergarten News: As we begin Kindergarten there are so many things to learn! Our first few days we read The Kissing Hand and other books by Audrey Penn. Chester the Raccoon in these stories was brave and did just as his mom told him to get by at school. It was hard for Chester to leave his mom, just like it is for so many kindergarteners as well. They were all very brave though!! As we move into our next week of school we are going to continue working on our classroom routines and PBIS expectations. We will also begin to settle into a normal routine doing Countdown, Numbers 0-5, handwriting, and so many other fun things. The beginning of the year is a great reminder of how quickly they will grow and learn. Kindergarteners come into our rooms everyday eager to learn and we are going to have another great year!