The Pekin Community Scholarship Fund Dinner and Auction is still on for Saturday, August 28th at 6:00 pm and will be held in the High School Commons. The doors open at 5:30 to the public. If you have not already purchased a ticket and would like to attend the event, tickets are available to be purchased at the door for $12.50 each. For the Seniors that are signed up to help at the event, we would like to have you at the High School Commons by 4:30. Please check in with Mrs. Millikin or Mrs. Glosser when you arrive. If you have any questions please email one of them with your question and they will respond to you as soon as they can.

We are excited to have the Pekin staff returning on Monday, August 23rd! The first day of school is Thursday, August 26th! Parents, if you have not registered your student, please do so right away. Please know that recommended cleaning (mitigation) processes are in place. We support families who elect to have their student(s) wear a mask. Please let your student's teacher(s) know. It's going to be a great 2021-2022 school year! Mr. Hatfield Go Panthers!

We have several students that have not registered for school yet. If you have not, please log into Powerschool and complete the e-registration. Go to the school website pekincsd.org and at the top of the page click on the menu tab. Scroll down to quick links and under quick links go to Powerschool. Then enter your username and password. If you can't remember your username or password please call Di, Marla or Christy at 319-695-3707 or 319-695-3705 . We would like to have all registrations done before Open House on August 24th. Open House will be held August 24th from 5:30-7:00 p.m. Looking forward to seeing everyone on the 26th.

School registration is Thurs., Aug. 5th in the high school commons from 12:00-6:30 PM. New families will need to attend in person. Returning families, including pre-registered incoming Kdg., may also attend, but may also utilize their access to Power School to register. Look for the link in the top left corner of our web page. Please do not try to use Power School to register before Aug. 5th. We are excited to begin another productive learning year at Pekin. See you all soon!

Good evening. I am sharing these form links again to try and get feedback for student funding. We are still low on responses for these forms at only 96 for one and 260 for the other. Please take a few minutes to fill them out to help the school district secure funding to provide devices for our students. There are only 3 questions in each. Thank you.
https://forms.gle/oPukFQp8nrrkdTQP6
https://forms.gle/EUvQbwencuJzk9R49

Just a reminder to all kindergarten parents. You will need to complete the online registration for your incoming kindergarten student after August 5. The registration you completed at kindergarten round up was only a pre-registration.

July 25th - August 1st Just a reminder that this coming week, July 25th - August 1st, is the non-contact period the state has set. There will not be any activities at the school. Thanks and enjoy this time with family and friends! Go Panthers!!!!!

Good evening. We are needing another short survey to be answered to try to gain funding to purchase equipment for the students at Pekin. Please take a few minutes to fill it out. The link is below. Also included is the link to the first survey. If you haven't filled it out, please do so as each survey is linked to the purchase of two separate types of equipment. Thank you for your help.
https://forms.gle/oPukFQp8nrrkdTQP6
https://forms.gle/EUvQbwencuJzk9R49

Attention students! Are you an independent, outgoing self-motivated Jr/Sr high school student that wants to be part of a fun Pekin Panther team? Learn how to sign up below! Pekin wants you to join the 2021-22 Yearbook Club to design and complete entirely student-produced Elementary and Jr/Sr High School publications. Did we mention FUN! In Yearbook Club, we will make time to celebrate our hard work and successes. You will also have an opportunity to create lasting relationships and memories. As a staff team member, you will take on a variety of exciting roles and responsibilities. These staff opportunities include: Photography/Reporting: These students will attend school events and classes to interview and take photographs. These students must be available after school to participate in a variety of functions. Literary: Staff writers drive the direction of our publication. They will determine the subject matter, coming up with compelling angles for the stories they compose. As a proofreader and editor, students will have the final eyes on every page in the book. Design: Students will work closely with design programs to create original, eye-catching layouts. They will look at typography, color, and graphics to implement the overall theme of our yearbook. Sales/Marketing: These students will be responsible for generating publicity and sales, including everything from advertising, processing orders, and soliciting patrons. They maintain the public face of our business via our website and social media networks. This Club is open to all Pekin Jr/Sr High School Students that commit to school activities, lead, have an ability to solve problems; work independently, and produce quality work turned in on time. Space is limited. TO SIGN UP! Email
matt.guise@pekincsd.org
the following information: Your full name 21/22 grade level Contact phone number Email address


Please fill out the following 3 question, short survey as soon as possible. The data collected from the form will be used by Pekin to gain funding to purchase new equipment for student use. Thank you.
https://forms.gle/XbXHbMLwoHSaKMXK9

SITE CHANGE for tonight's baseball game: Pekin vs. Cardinal now AT PEKIN at 5pm game, Monday, July 12, followed by Davis County vs. Central Lee at Pekin at 7:00 pm, Monday, July 12.

https://forms.gle/8QFw4Av3BFYpeckm6
To accelerate my learning, I would be grateful for your honest input. All responses are anonymous. A summary of the responses will be provided to Board, staff and community. Your input will help us gain a deeper understanding of the perceived Strengths, Weaknesses, Opportunities and Threats related to the school district. My goal is to complete this survey by the end of August, 2021. Thanking you in advance, Kevin Hatfield, Superintendent

Baseball vs Cardinal @ Davis County, July 12, 5:00 p.m. Pekin / Sigourney Joint Board of Education Meeting, Wed, July 14, 6:00 p.m. Sigourney JRSR High school, Media Center. Pekin Regular Board of Education Meeting, Mon, July 19, 6:00 p.m. Pekin Media Center

Baseball Update The district game at Davis County has been postponed this evening and will be moved to Monday at 5:00. Thanks and Go Panthers!!!!

Here is the information for purchasing tickets to the July 10th district baseball game at Davis County : Saturday, July 10th Davis County will be hosting the first round of the Class 2A District 12 baseball tournament. Pekin and Cardinal will be playing at 5:00. The IHSAA will be using Hometown Ticketing. We will not be allowing cash sales at the gate, all tickets must be purchased through Hometown Ticketing. Tickets are $6. Tickets will go on sale Wednesday, July 7th at 9 a.m. Fans can go to the ticket page on the IHSAA website to purchase tickets. Here is the link:
https://www.iahsaa.org/tickets/
Also attached is a QR code. Once scanned the QR code will take a purchaser to the ticket page. You MUST have a ticket to be scanned when entering through the gate. You can print tickets or have them on your phone. ALL FANS WILL NEED A TICKET! NO TICKETS WILL BE SOLD AT THE GATE! If there are any issues with the purchase of tickets fans can call HomeTown Ticketing at 866-HTT-4TIX Thank you!

Saturday, July 10th Davis County will be hosting the first round of the Class 2A District 12 baseball tournament. Pekin and Cardinal will be playing at 5:00 and Davis County vs Central Lee will follow at 7:00. The IHSAA will be using Hometown Ticketing. WE WILL NOT BE ALLOWING CASH SALES AT THE GATE, ALL TICKETS MUST BE PURCHASED THROUGH HOMETOWN TICKETING. Tickets are $6. Tickets will go on sale Wednesday, July 7th at 9 a.m. Fans can go to the ticket page on the IHSAA website to purchase tickets. Here is the link:
https://www.iahsaa.org/tickets/
Also attached is a QR code. Once scanned the QR code will take a purchaser to the ticket page. You MUST have a ticket to be scanned when entering through the gate. You can print tickets or have them on your phone. ALL FANS WILL NEED A TICKET! NO TICKETS WILL BE SOLD AT THE GATE! If there are any issues with the purchase of tickets fans can call HomeTown Ticketing at 866-HTT-4TIX,

https://forms.gle/8QFw4Av3BFYpeckm6
To accelerate my learning, I would be grateful for your honest input. All responses are anonymous. A summary of the responses will be provided to Board, staff and community. Your input will help us gain a deeper understanding of the perceived Strengths, Weaknesses, Opportunities and Threats related to the school district. My goal is to complete this survey by the end of August, 2021. Thanking you in advance, Kevin Hatfield, Superintendent

Congratulations to Makenzie Dahlstrom on being named the 2021 Jefferson County Fair Queen! What an honor to represent our county! Enjoy the experience Makenzie. We wish you the best as you move on to the 2021 Iowa State Fair! #GoPanthers #pekinpride #classof2022 Pictured is Makenzie Dahlstrom and Brayden Sobaski. Photo by Jill Dahlstrom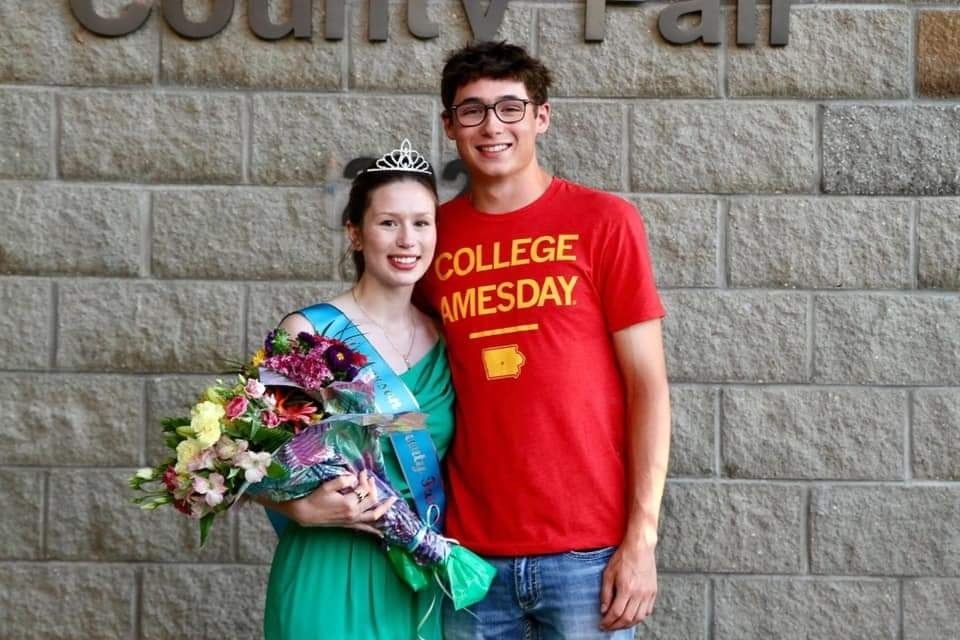 Take a look at the first senior parking spot completed! Alex did a nice job. 👍